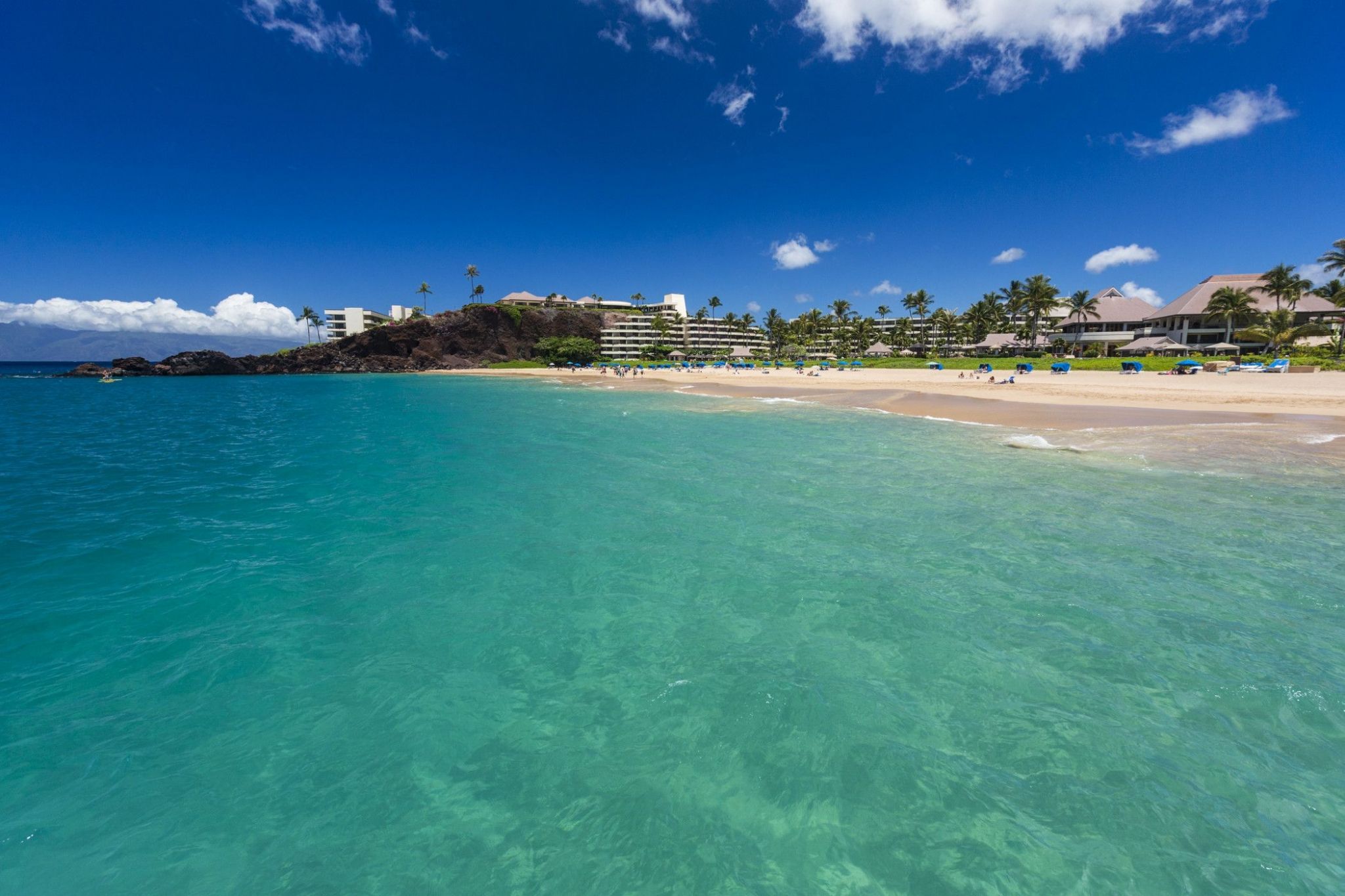 RESORT SHUTTLE
Shuttle Kaanapali between resorts and shopping
Guests of the Sheraton Maui Resort & Spa, Westin Maui Resort and Spa, Westin Ka'anapali Ocean Resort Villas and Westin Nanea Ocean Villas will now have access to a complimentary resort shuttle that will travel between Ka'anapali and three locations in Lahaina. All guests will be asked to show their room key prior to boarding the shuttle, whose stops include the Lahaina Cannery Mall, Outlets of Maui and the Wharf.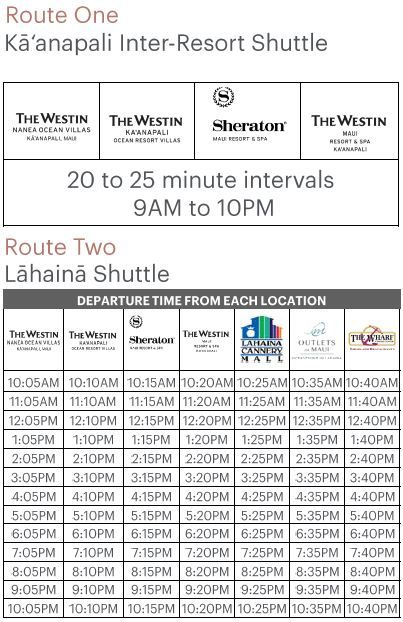 The listed times above are drop-offs and pick-ups for each location.
*** Please note: In adherence with federal law regarding the safe storage of loose items, certain strollers or other large objects may not be allowed on the shuttle. Please contact the front desk or talk to your shuttle driver if you have any questions regarding this policy.
AIRPORT TRANSFERS
Visitors arriving on the island of Maui will land at either the Kahului Airport (Code OGG) or Kapalua West Maui Airport (Code JHM). The Sheraton Maui Resort & Spa does not offer a hotel shuttle from either of these locations, however, several options are available to you.
Transportation from Kahului Airport:
Book the airport shuttle to and from the airport online here. (Powered by Roberts Hawaii)
Contact concierge to arrange transportation to or from the airport.
Executive Transportation is available for shuttle services between Kahului Airport, Kapalua Airport and the Sheraton Maui Resort & Spa. They also offer limousines and car services. For reservations, book on-line or call 1-800-833-2303 or 808-669-2300.
Speedishuttle offers affordable & convenient shuttle services between Kahului Airport and the Sheraton Maui Resort. ADA (wheelchair lift) service is also available. Kindly allow at least one (1) day notice for this service. For reservations, book on-line or call 1-877-242-5777.
Car Rental: There is an Enterprise Rent-A-Car facility located at the Sheraton Maui Resort & Spa.
Driving Directions from Kahului Airport: Approximately 30 miles
Exit following signs to Highway #380 via Dairy Road.
Turn left onto Hwy #30 at traffic light
Turn left into Kaanapali Resort on Kaanapali Parkway.
Hotel is located at end of Kaanapali Parkway.
---
Kapalua West Maui Airport Transfer options:
Located a short 6 miles from Kaanapali, this airport is served by smaller propeller aircraft. Transfer Service is limited to taxi, car rental shuttle and pre-arranged shuttle with one of the above companies; however, please note in any on-line reservations that you need a transfer from the KAPALUA Airport.
Driving: Rental cars are located off the airport property. Directions from your rental provider will be available at the counter.