Sustainability
Sheraton Maui Resort & Spa Leads as First Hawaii Resort to Eliminate Single-Use Plastic Straws
Sheraton Maui Resort & Spa is saying no to single-use plastic straws in an effort to enhance environmentally sustainable practices and to protect Hawaii's tropical marine ecosystem, including the endangered honu (green sea turtle).
In August 2017, the resort became the first in the Hawaiian Islands to voluntarily eliminate single-use plastic straws in favor of a marine-friendly alternative.
According to Surfrider Foundation, approximately 500 million plastic drinking straws are used and discarded every day in the United States alone, and 175 billion straws are used in a year. Surfrider Foundation also notes that marine life, including honu, can be harmed by ingesting plastic straws and other broken down plastics that pollute the ocean and waterways. Lonely Whale Foundation asserts that an estimated 30 percent of turtles have been found with plastics in their stomachs, and when they ingest plastic, marine life has a 50 percent mortality rate.
Sheraton Maui Resort & Spa offers paper straws as an environmentally-conscious solution at its multiple dining establishments, luau, banquets and events. Paper straws are provided in keiki (kids) beverages and blended tropical drinks, with other beverages being served without straws unless a paper straw is requested.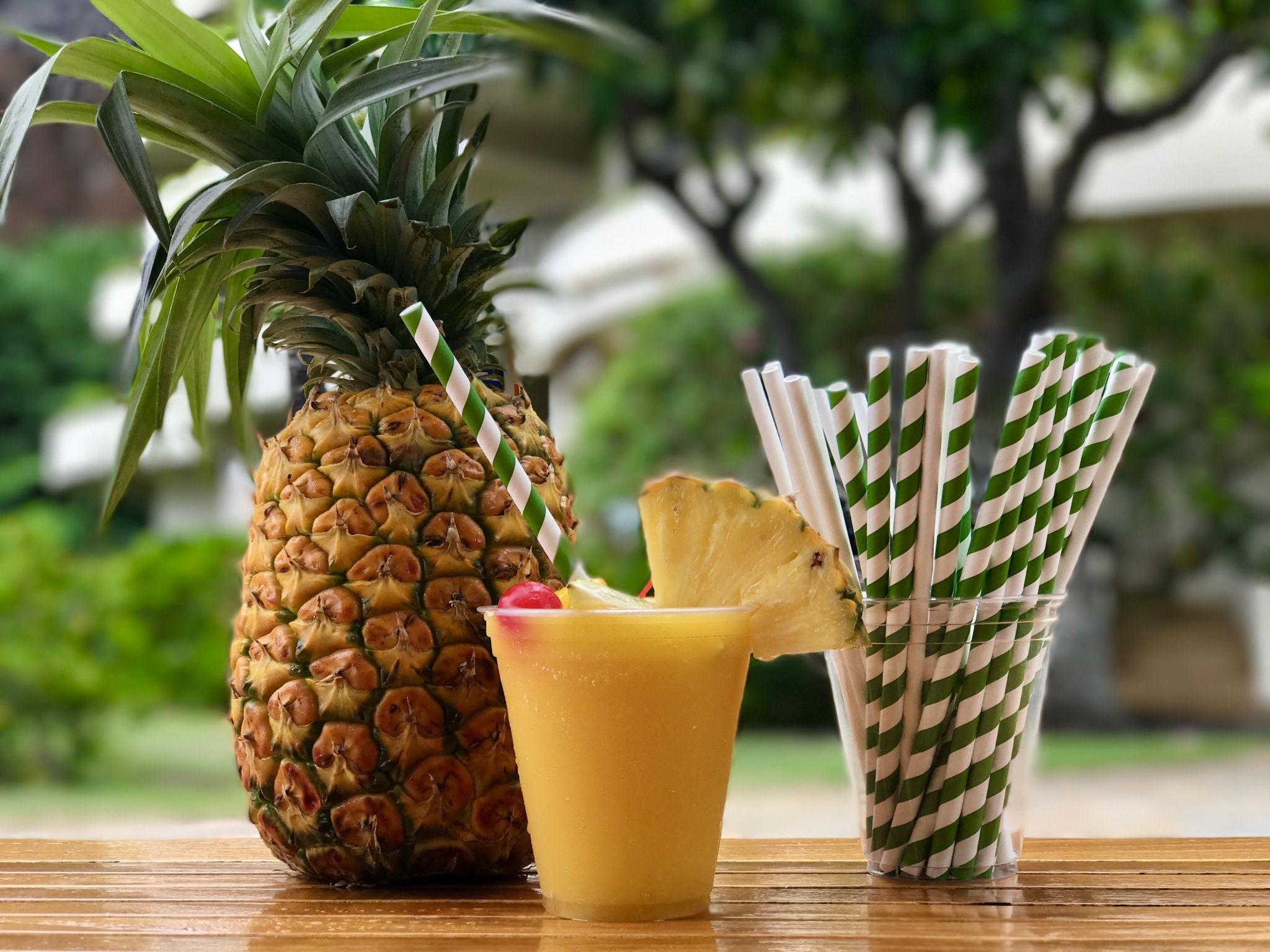 Reef-Safe Sunscreen
Just in time for summer, Sheraton Maui has partnered with Raw Elements sunscreen to implement reef-safe sunscreen dispensers, encouraging guests to choose-reef safe sunscreen and preserve the health of our coral reefs. The dispensers are complimentary for in-house guests.
The resort also offers the Day at the Beach amenity for purchase. The amenity includes keiki beach toys, a 3 oz. tin of Raw Elements reef-safe sunscreen, two waters, two Aloha Maid juices and Maui chips, priced at $40.