Sheraton Maui Weddings
Located on pristine Ka'anapali Beach at iconic Pu'u Keka'a, Sheraton Maui Resort & Spa offers a selection of ideal spaces to host your destination Maui wedding.
Each of our amazing wedding venues speaks to you in a different way, from dramatic to intimate, oceanfront to tropical serenity. With 23 lush acres gracing Ka'anapali Beach, the possibilities are as infinite as your imagination.
We aspire for the wow factor—a wedding that dazzles accompanied by the peace of mind that lets you shine. Our Maui Wedding Managers capture the details that define your dream, from selecting the perfect venue to coordinating with vendors to fulfill those extra details you may not have thought were possible.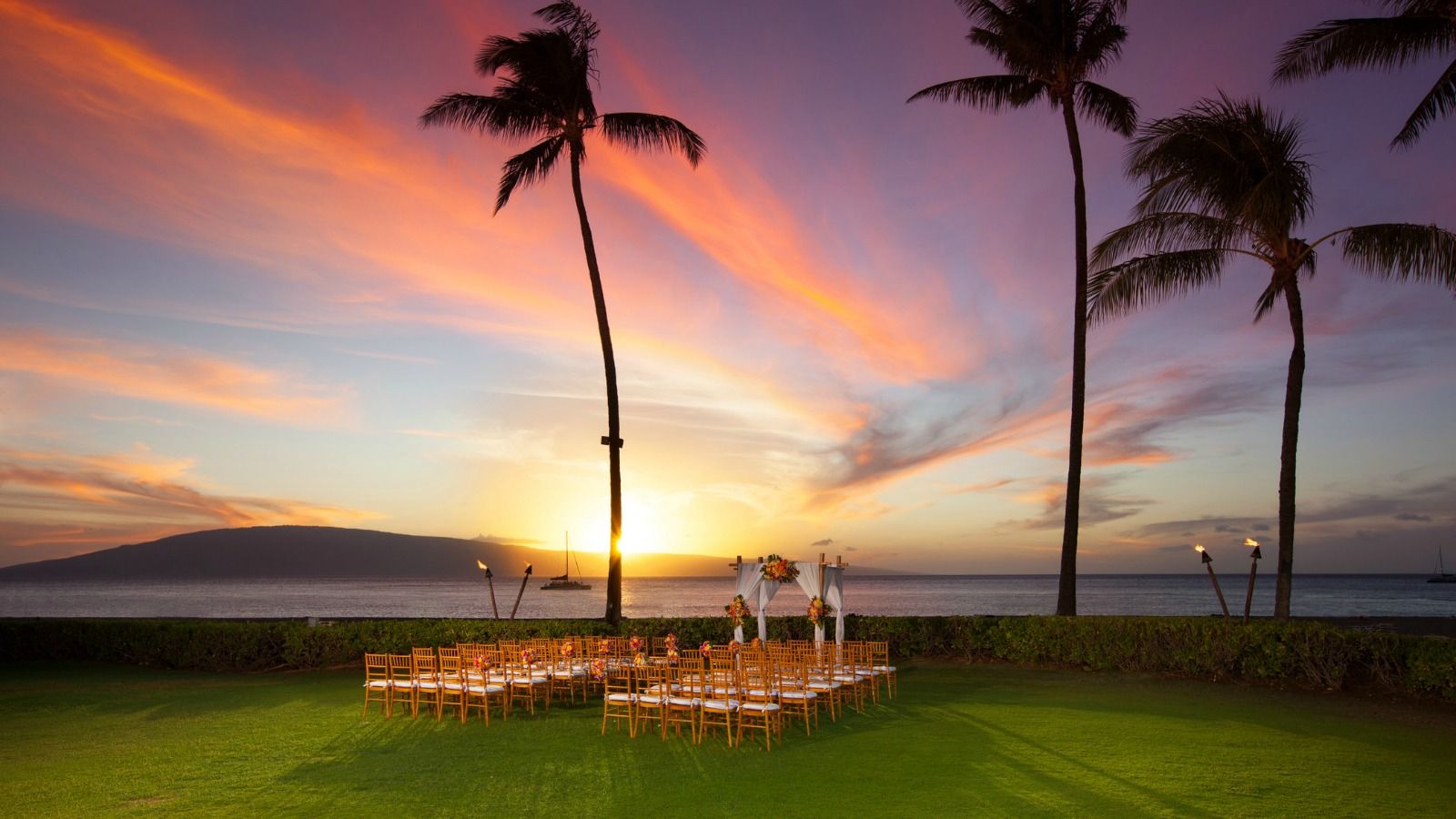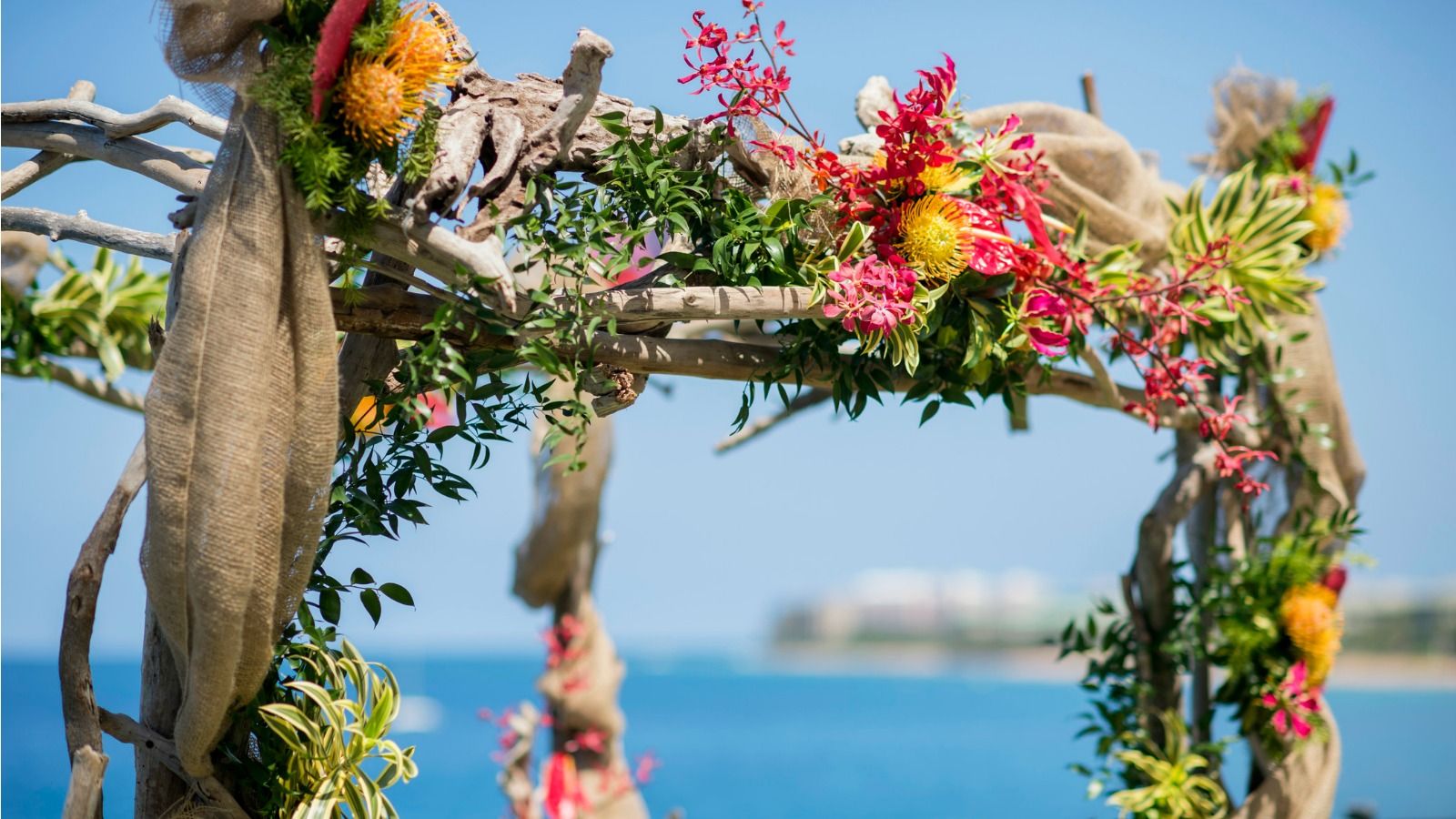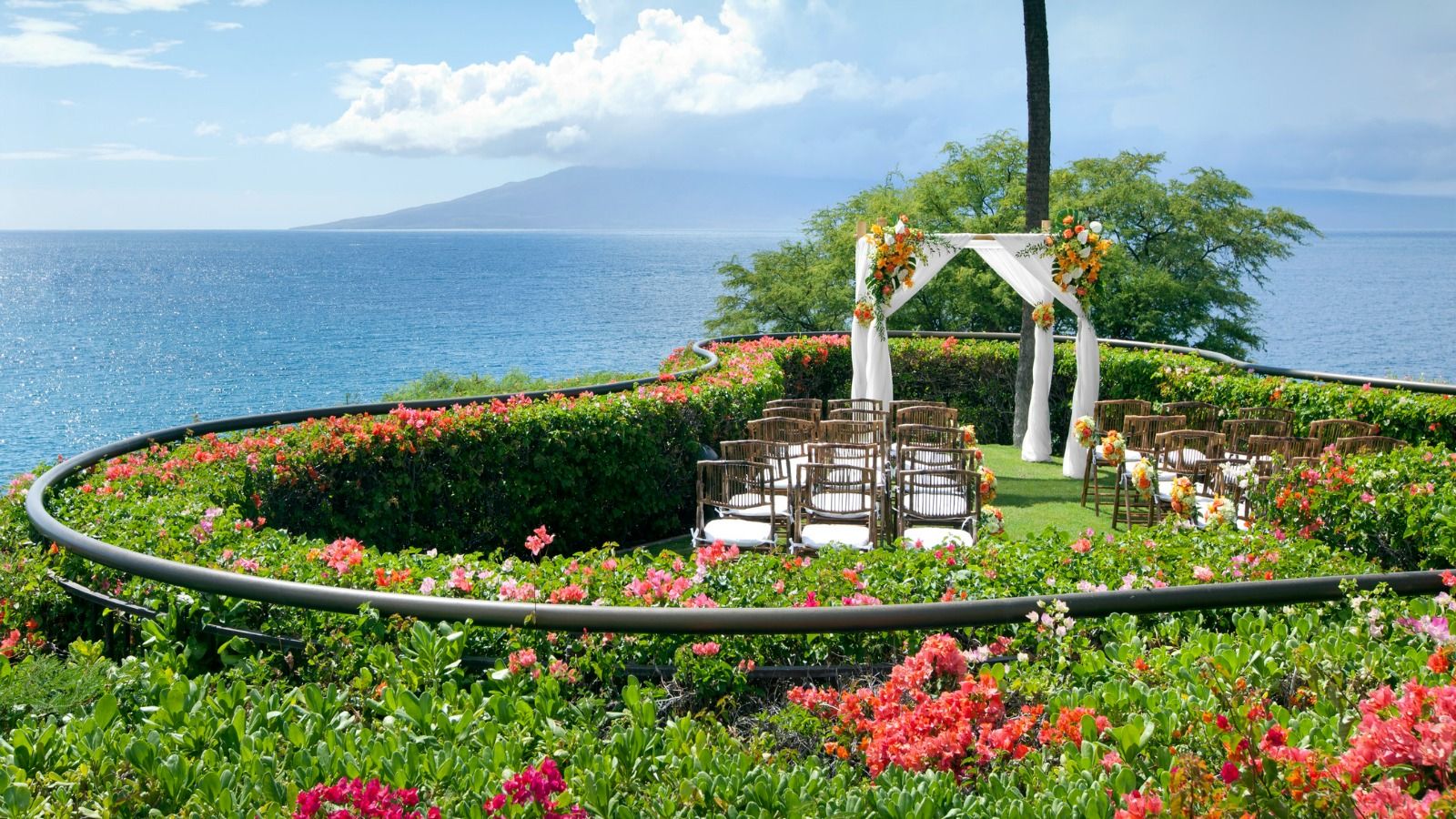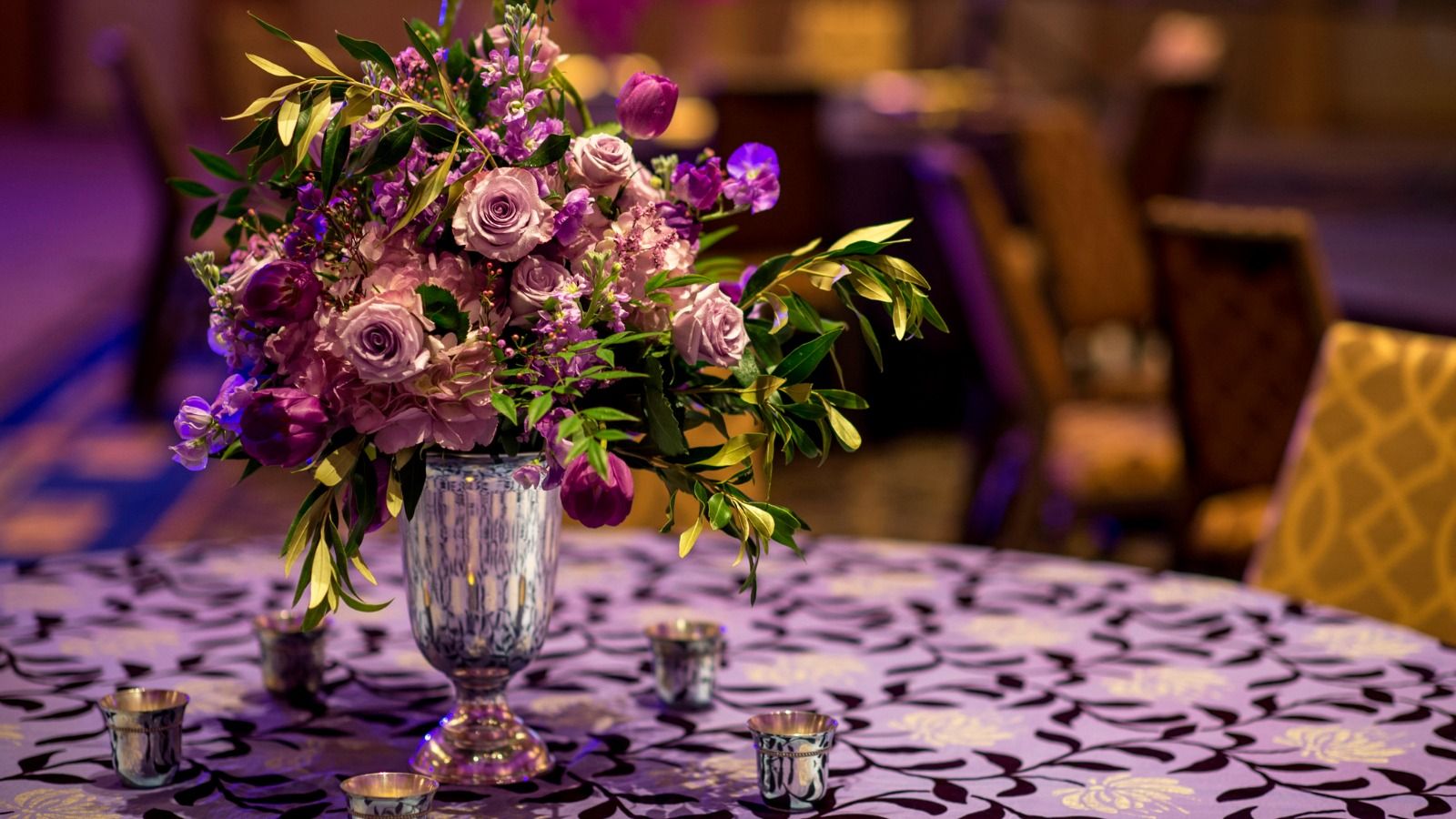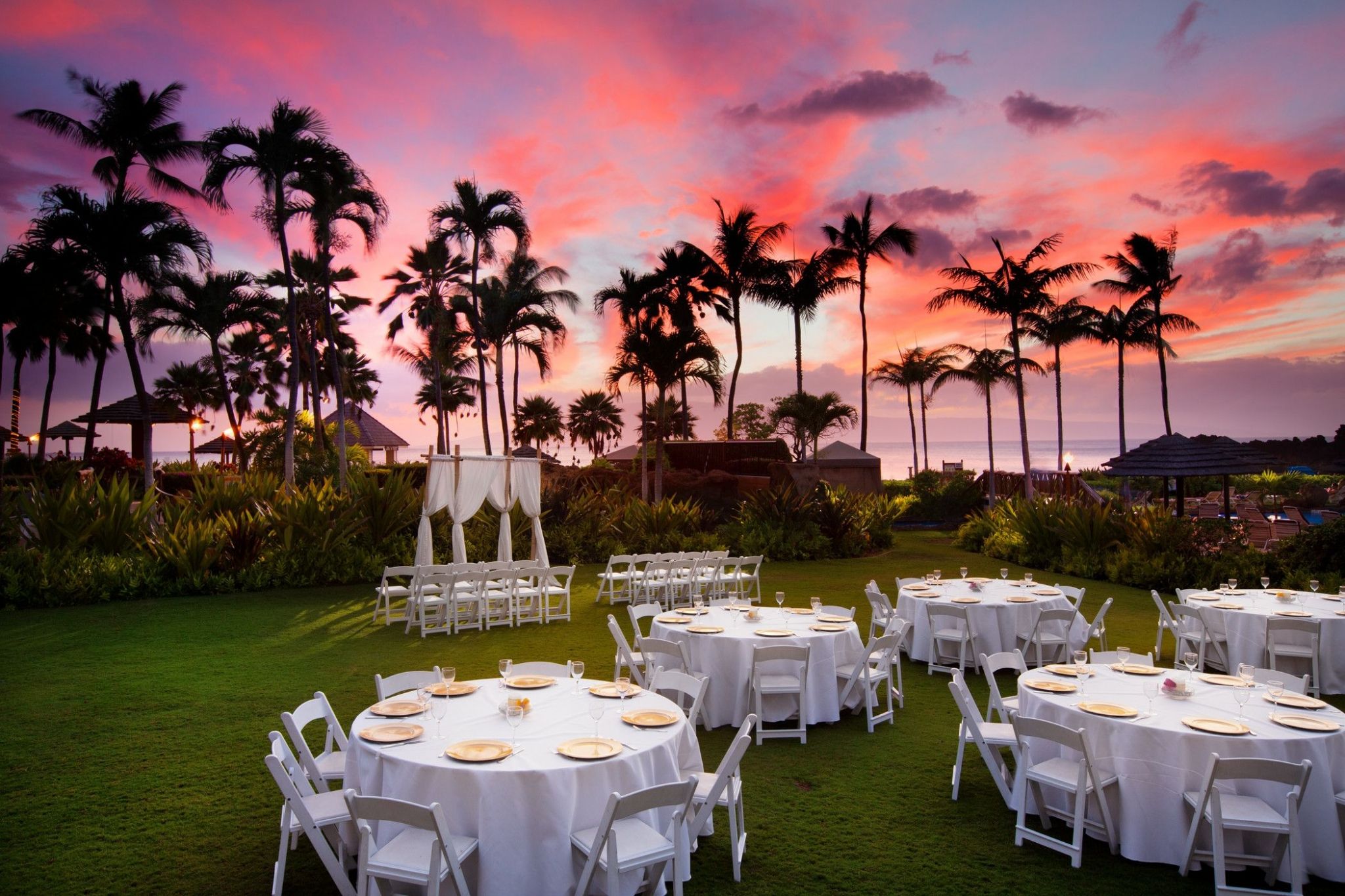 Highlights
Eight beautiful venues
Customizable menus
Dedicated wedding specialist
Ceremony & reception enhancement options
Room rate discounts for guests
Contact Us
Email Wedding Specialist

Phone: (808) 662-8159


Maui Wedding Venues
From dramatic to intimate, oceanfront to a secluded garden setting, we have it all.
Ocean Lawn
The pristine expanse of the Ocean Lawn provides a large idyllic setting for your family and friends to gather and celebrate your special day. Only steps away from Ka`anapali Beach, the Ocean Lawn features breathtaking views of historic Black Rock and the neighboring islands of Lana`i and Moloka`i.
This 12,000 square foot lawn is perfect for a welcome event, rehearsal dinner, wedding ceremony, or wedding reception. Many couples choose to hold the ceremony, cocktail hour and reception all in this one gorgeous location.

A minimum of 80 guests is required and a maximum of 500 guests can be accommodated.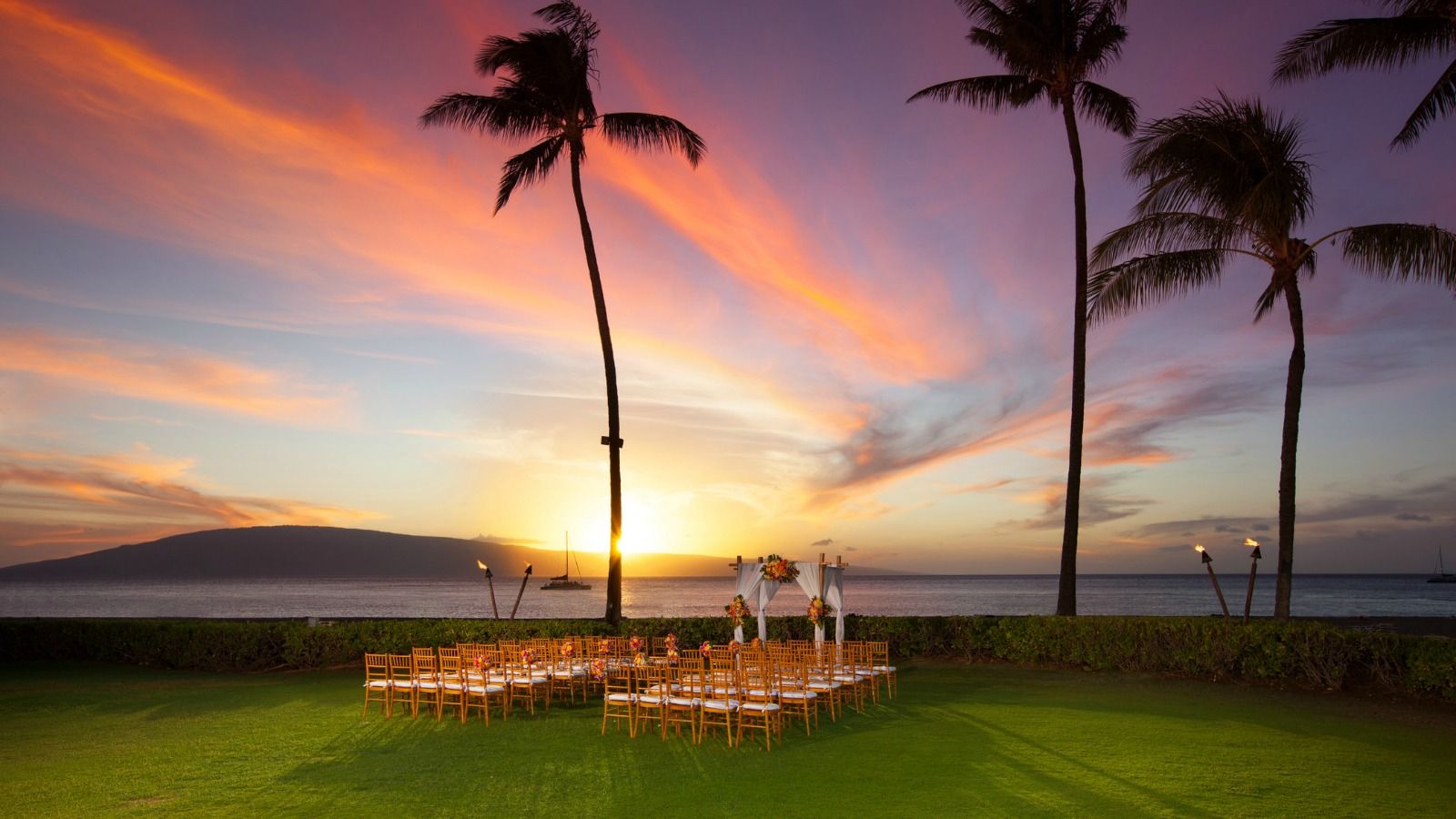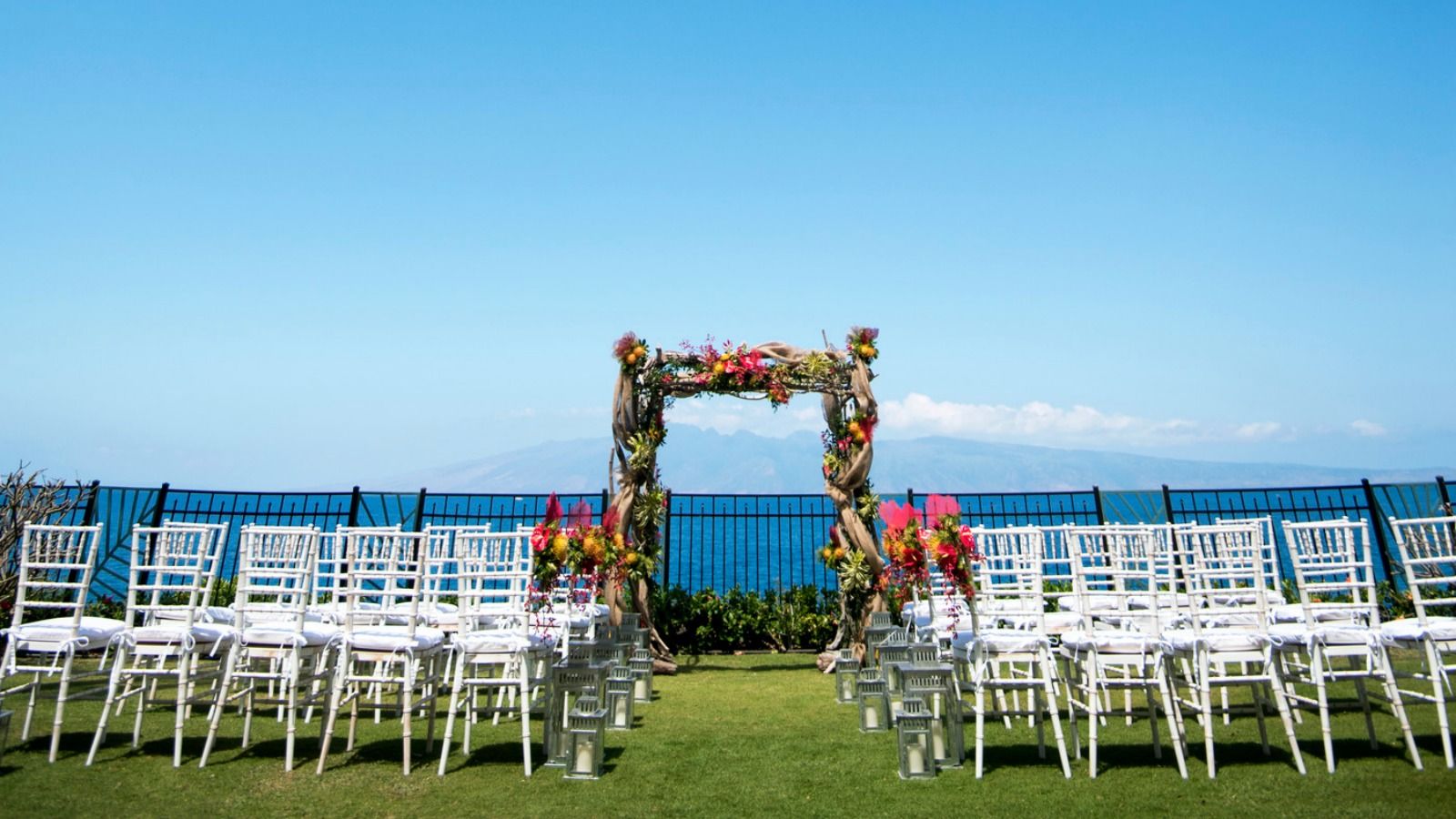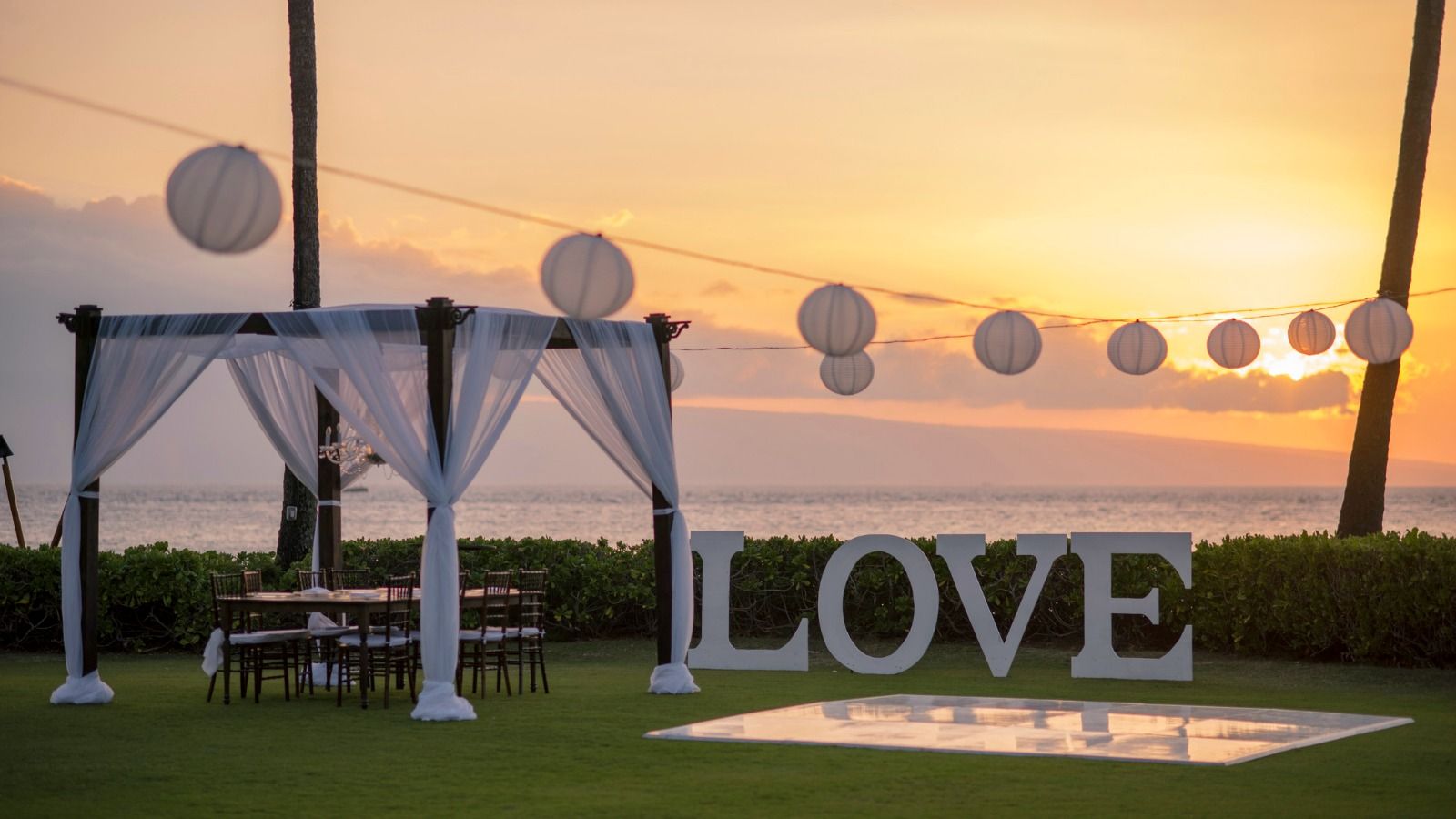 Moana Lawn & Lounge
Situated on the back of Black Rock, near our Hale Moana building, the Moana Lawn features a private garden setting with a beautiful green rolling lawn and inspiring views of the island of Moloka`i.
The setup for this area begins in the Moana Lounge, which opens up to the expansive Moana Lawn. Make your grand entrance through the lounge and meet the one you love at the edge of the Pacific Ocean.

The Moana Lawn and Lounge can accommodate up to 80 guests for ceremonies and 26 guests for receptions.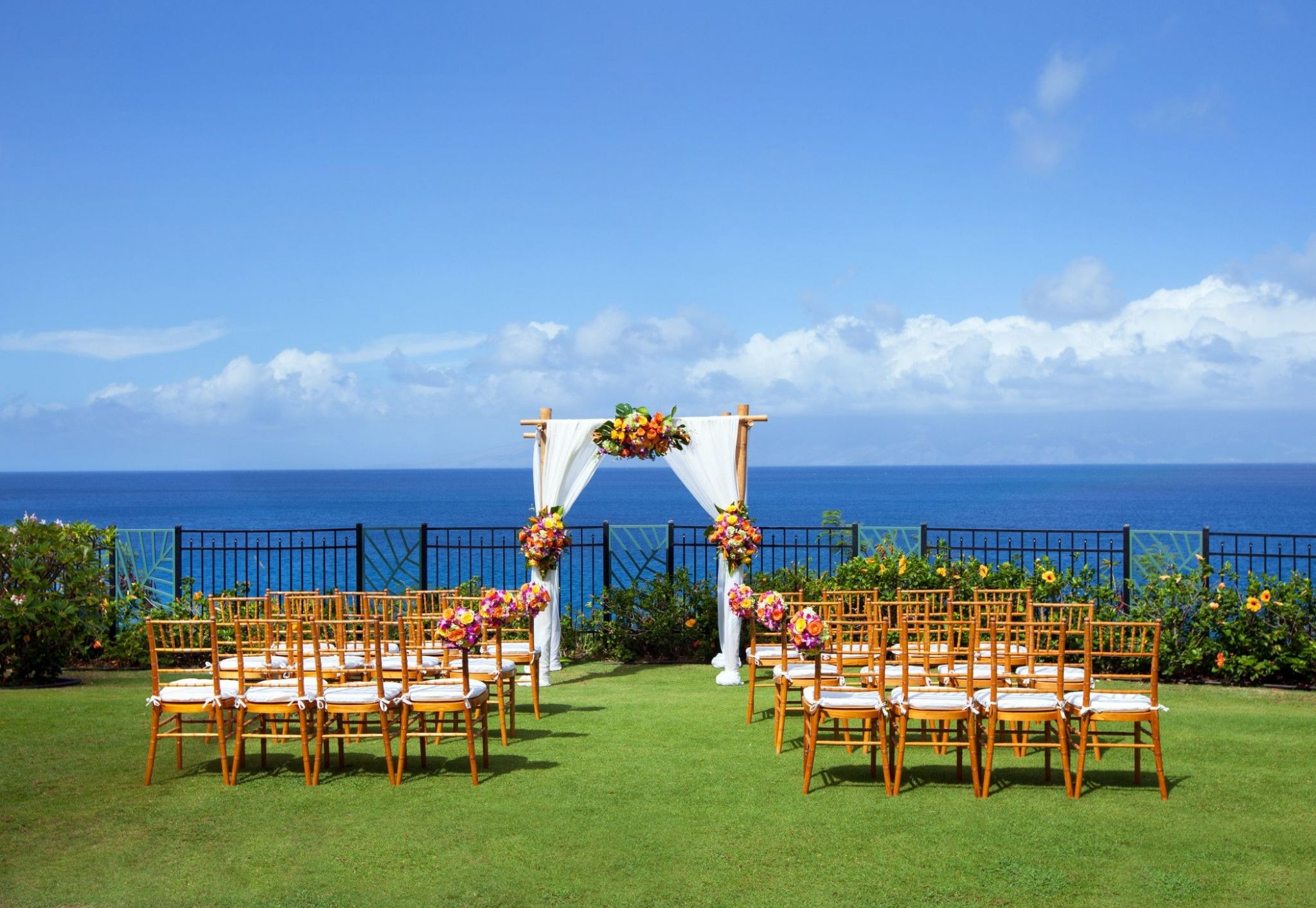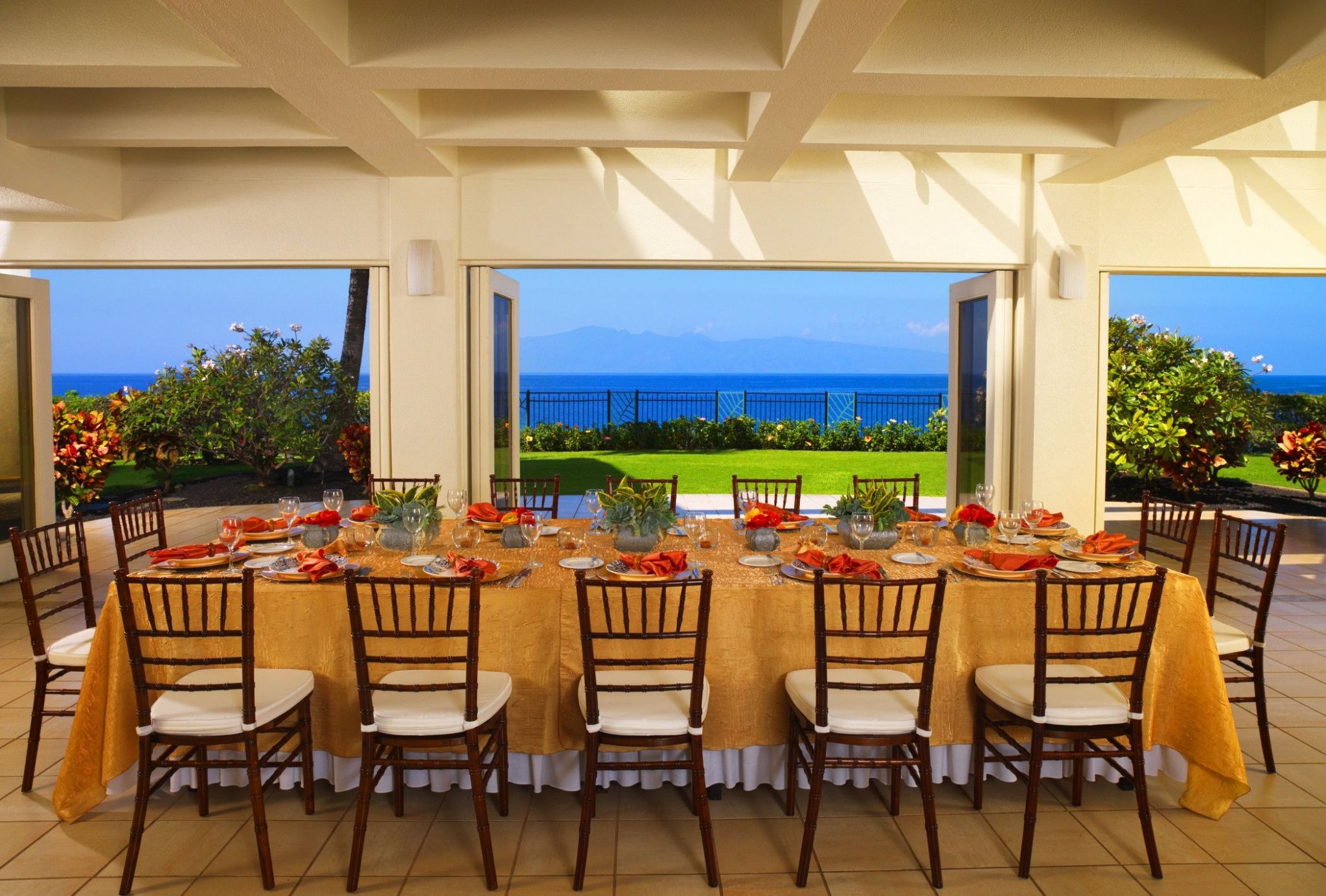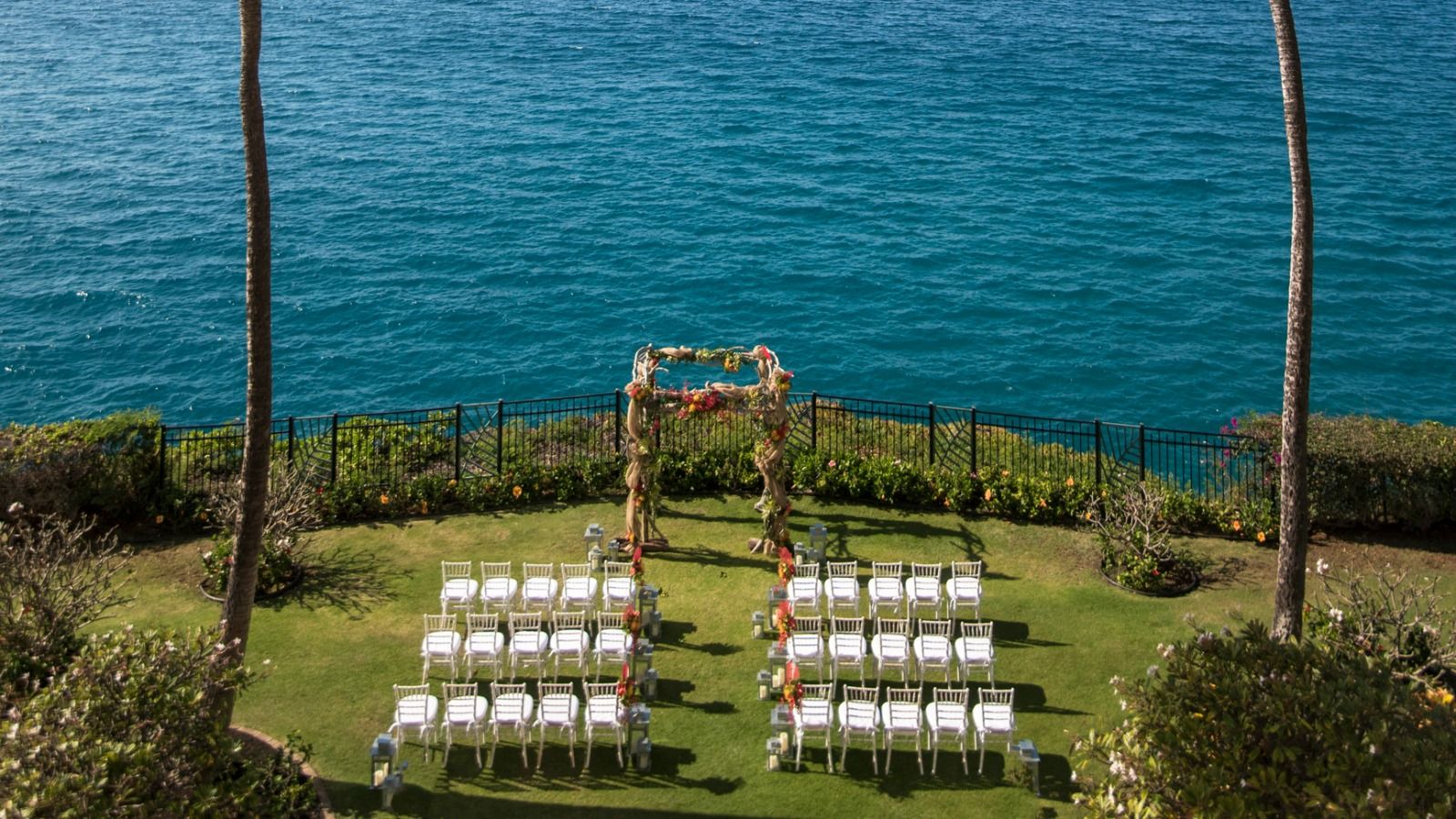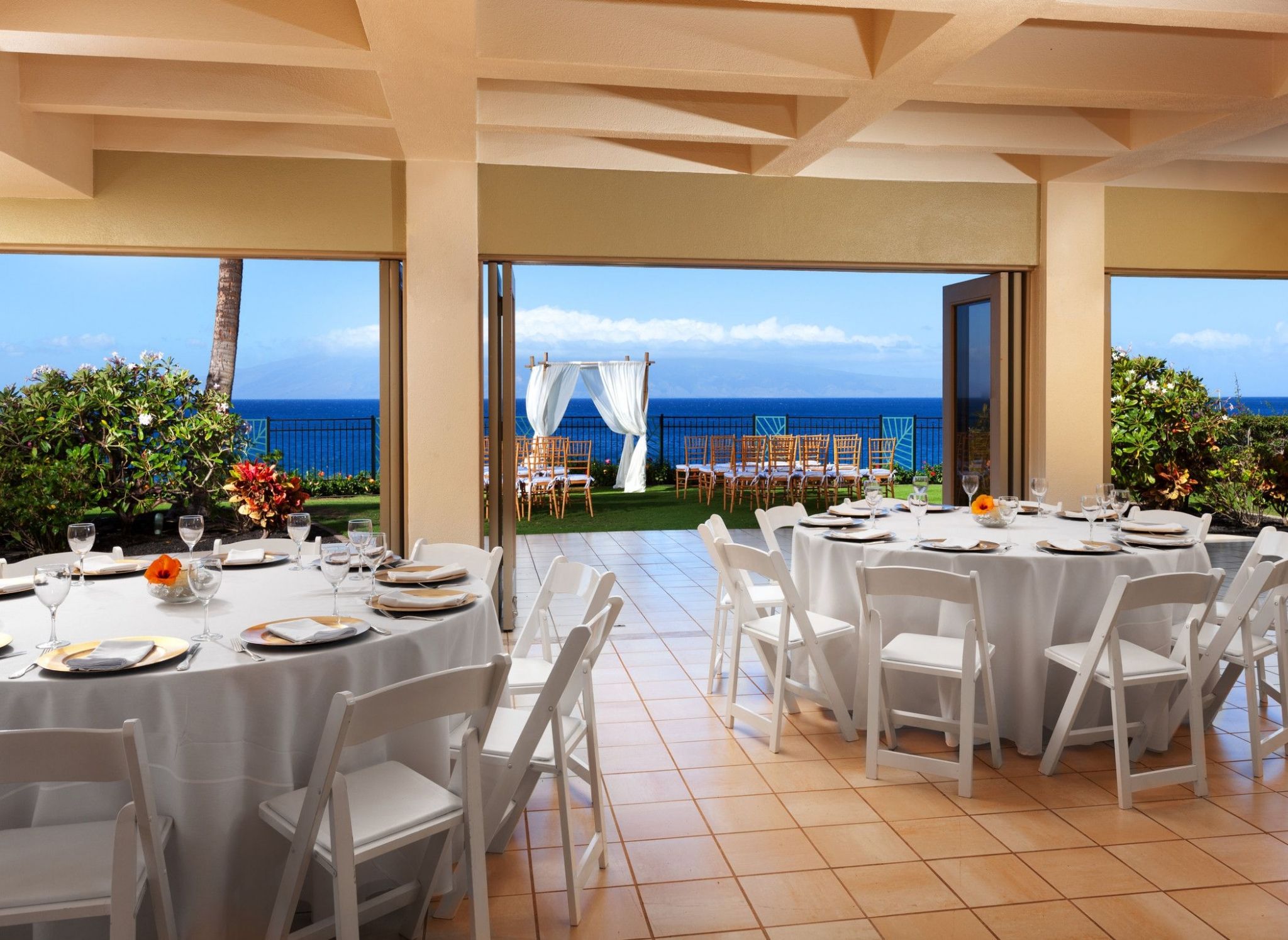 Black Rock Lawn
For couples that want to be close to the ocean without the hassle of a permit, Black Rock Lawn is the ideal location. Hidden in a private corner of our 23-acres of tropical paradise, your wedding photos will astound your friends and family as they marvel over the picturesque backdrop of historic Black Rock, the blue Pacific Ocean and the island of Lana`i.
This versatile space can be used for wedding ceremonies, wedding receptions or simply a romantic Dinner Under the Stars for two. The Black Rock Lawn comfortably fits up to 50 guests.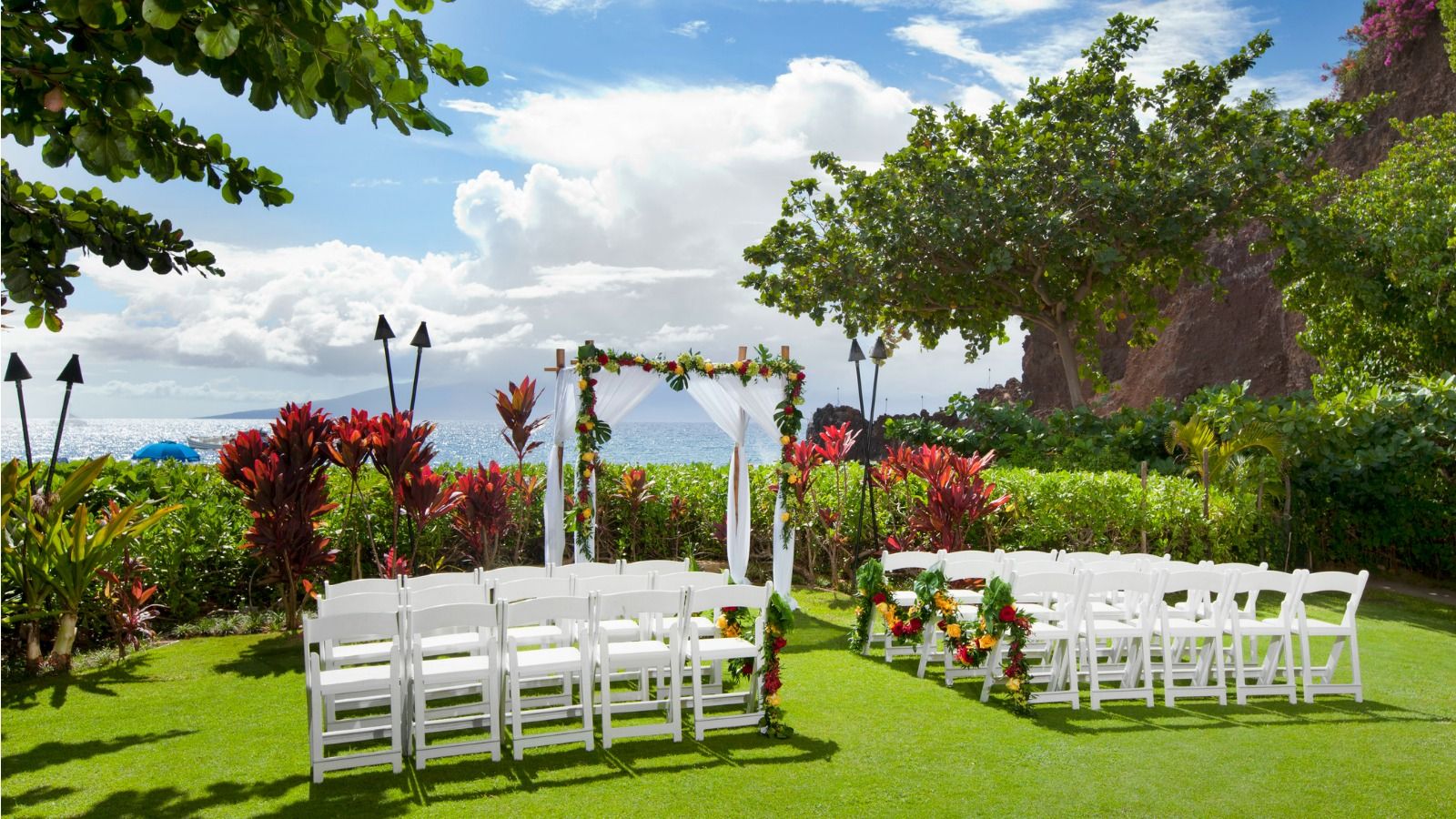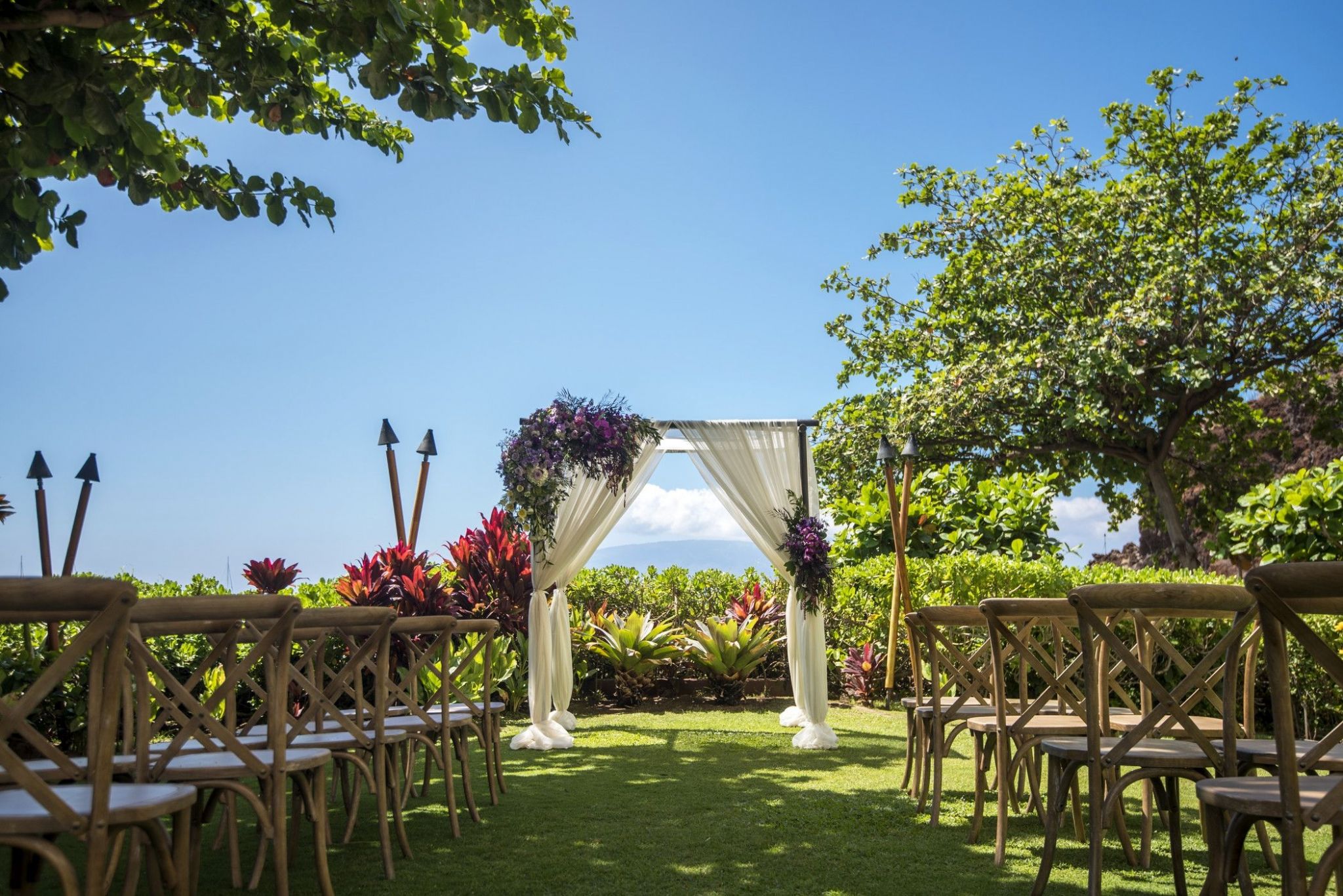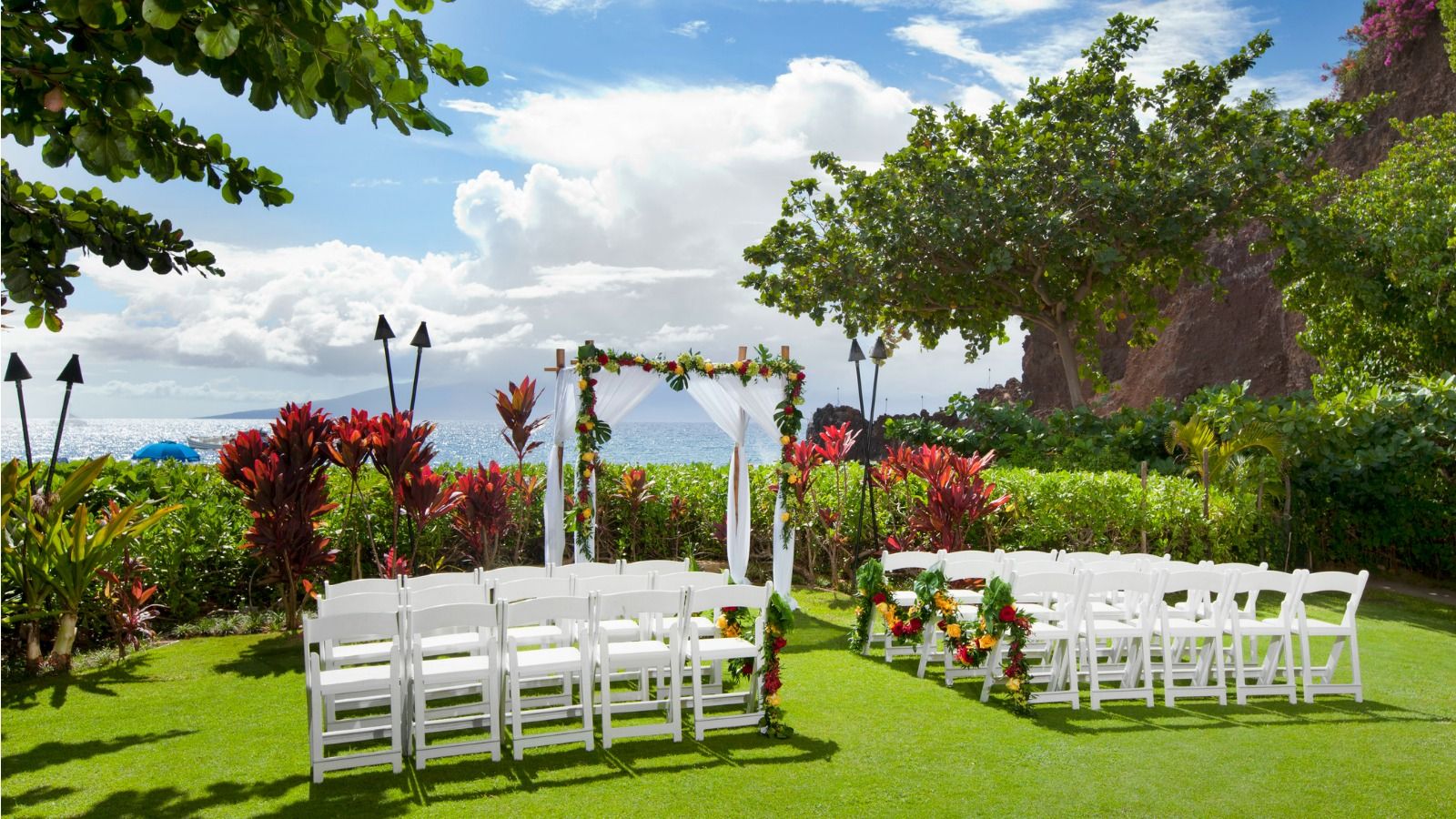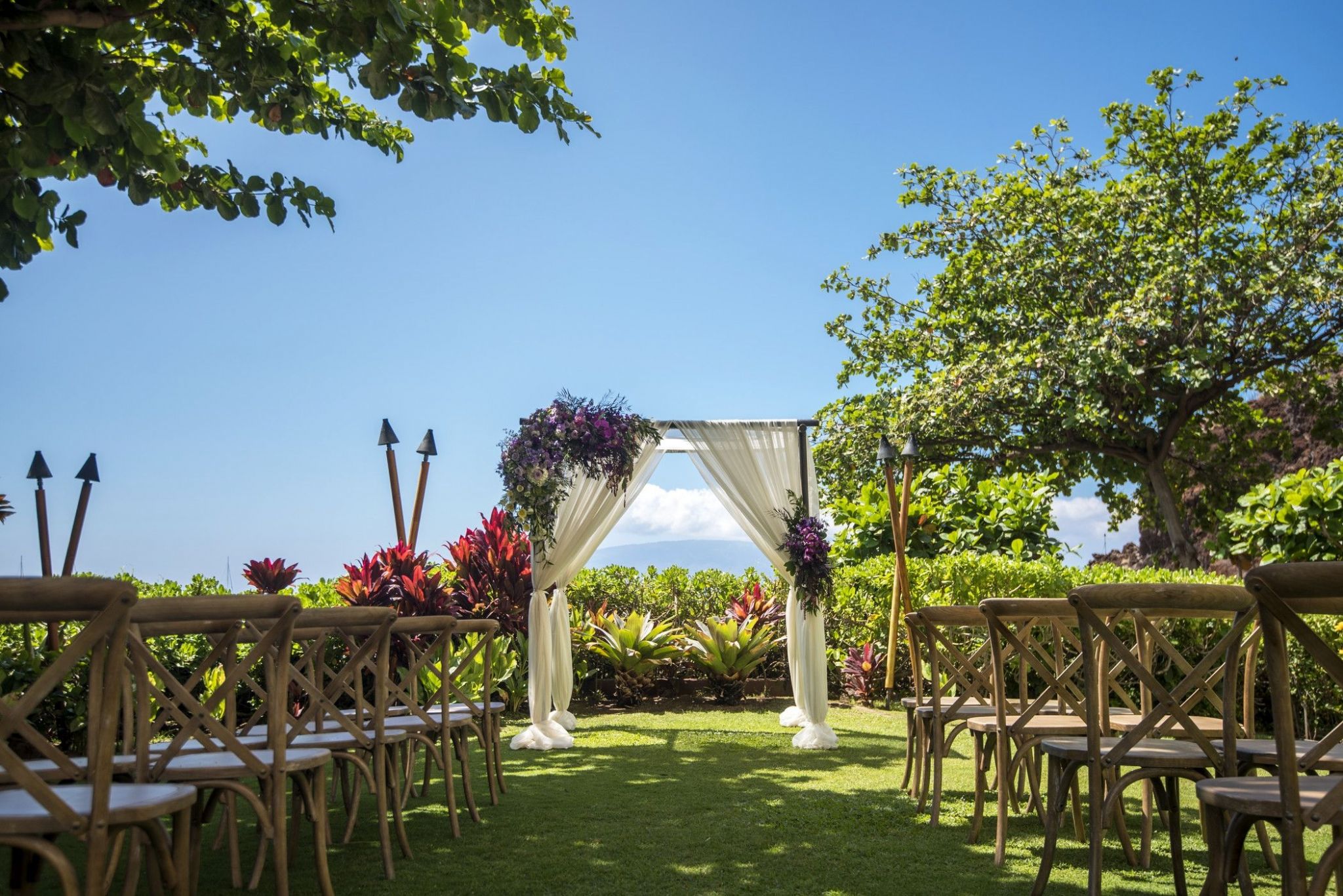 Coral Reef Room
Located on the ground level of Sheraton Maui Resort & Spa, near Black Rock Terrace, the Coral Reef Room is surrounded by clear glass windows for an indoor/outdoor ambiance. The Coral Reef Room offers a fun yet elegant setting for any occasion and is perfect for private dinners, wedding receptions, rehearsal dinners or cocktail parties.

For a festive wedding atmosphere, that includes a dance floor and buffet, this space can accommodate up to 75 guests depending on the room setup.
Ali'i Suite & Lawn
High above Ka'anapali Beach sits the crown jewel of Sheraton Maui Resort & Spa, the Ali'i Lawn. The heart-shaped private lawn is perfect for couples seeking a small, intimate wedding in a unique location.
This coveted venue is accompanied by the exquisite Ali'i Suite, featuring stunning views of the Pacific Ocean and our sister islands, Molokai'i & Lanai'i. The suite is offered exclusively in the Ali'i Wedding Package, which includes overnight suite accommodations.

The Ali'i Suite & Lawn are available for wedding ceremonies and cocktail receptions and can accommodate up to 30 guests.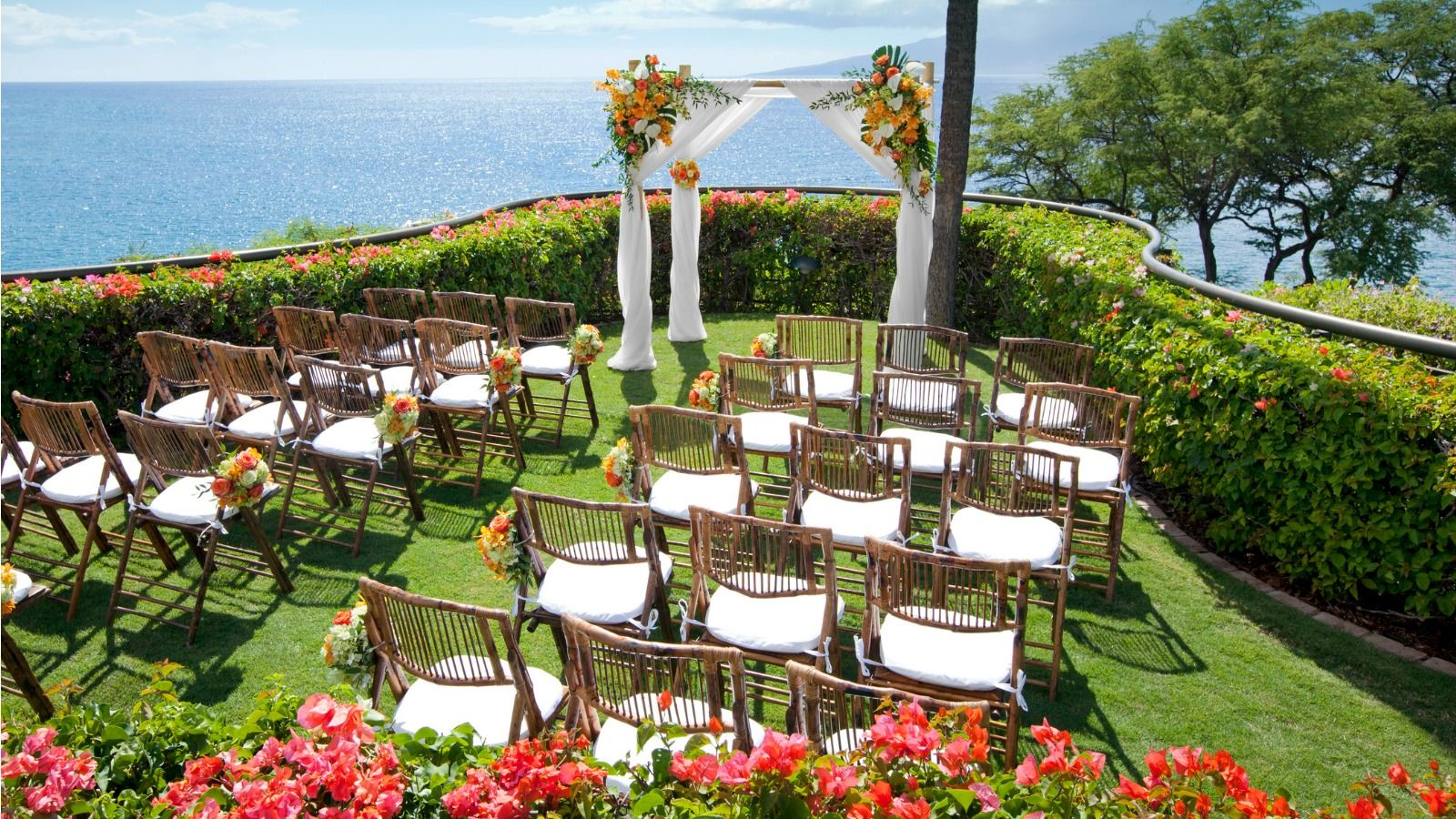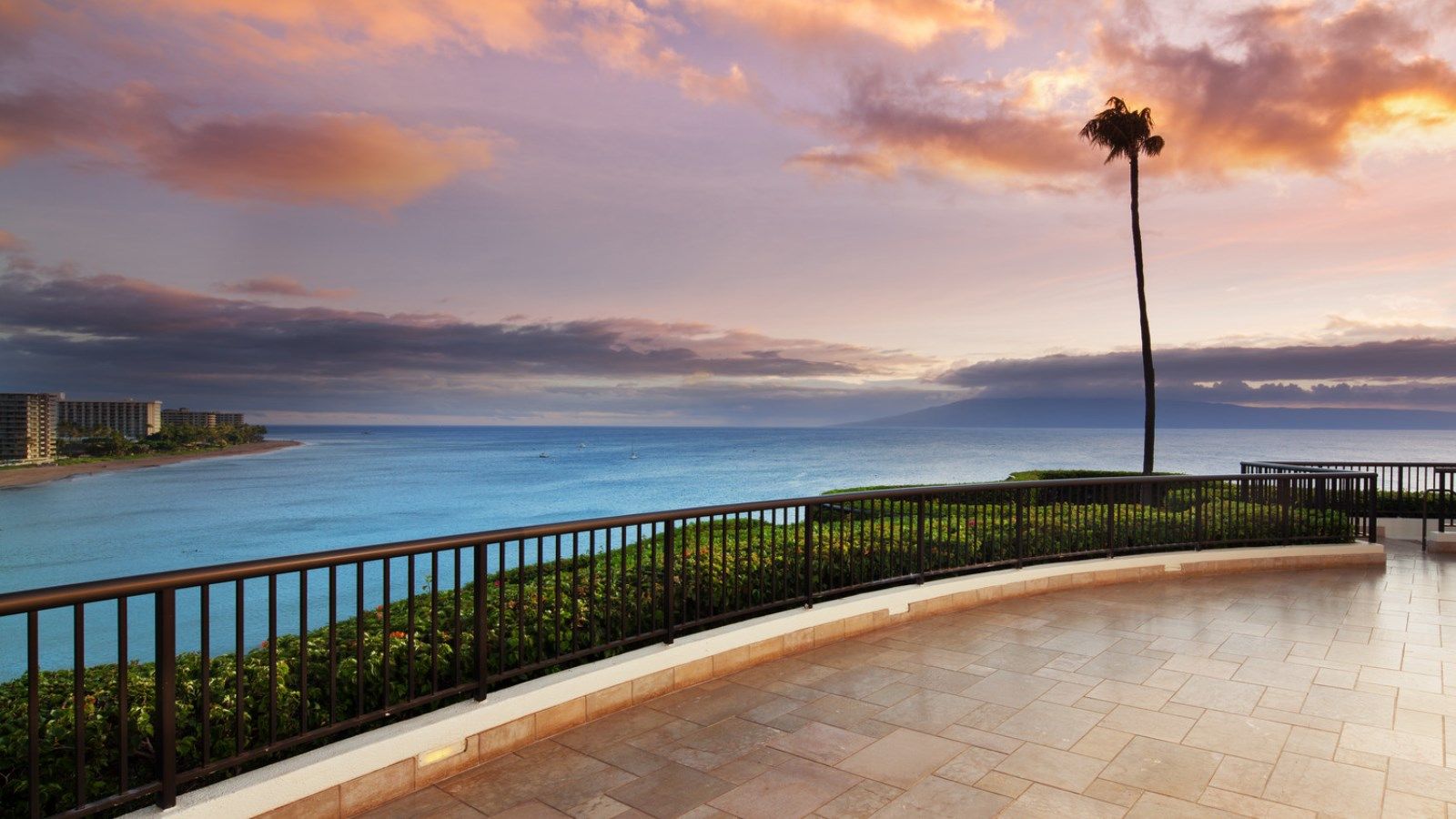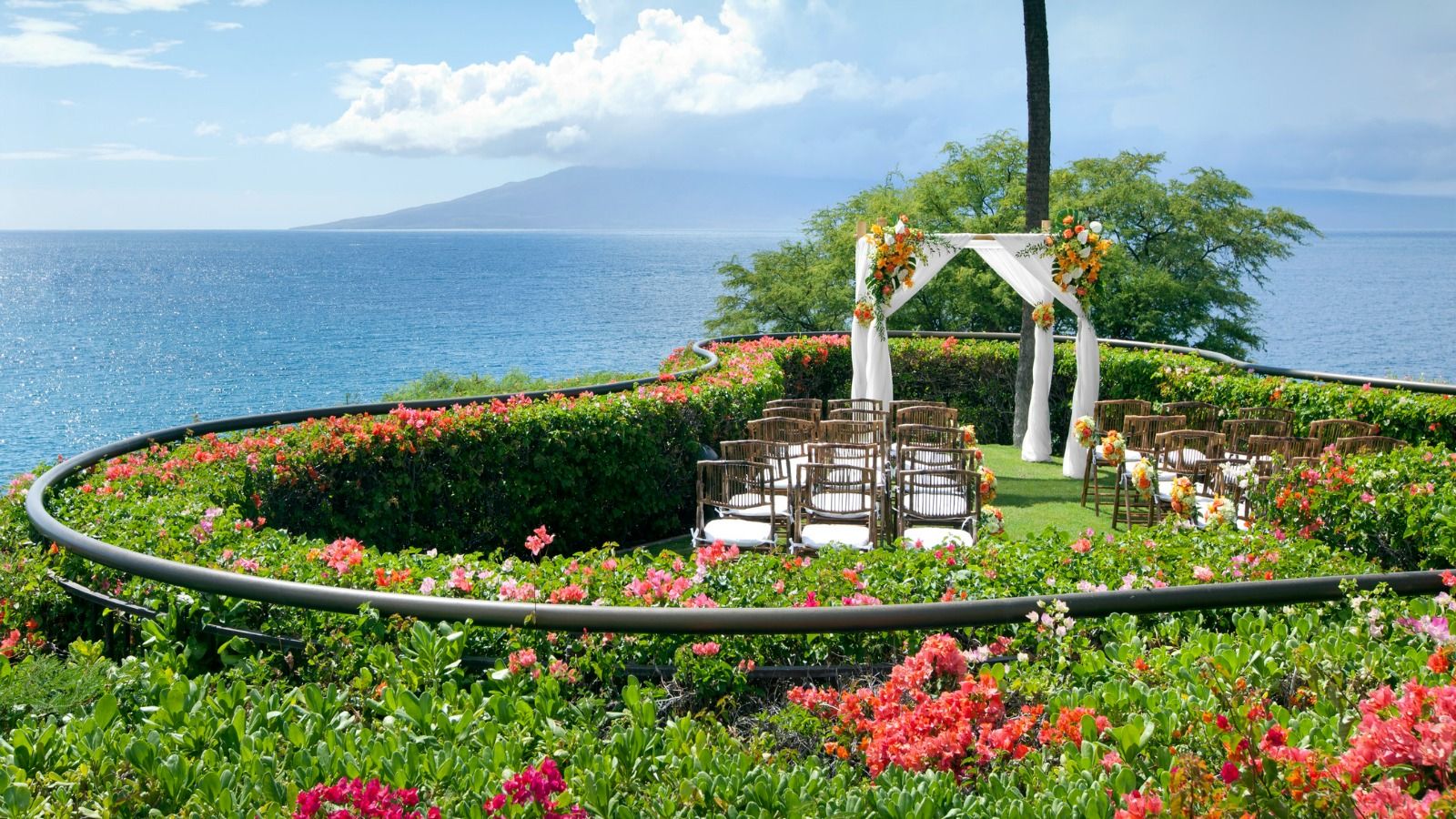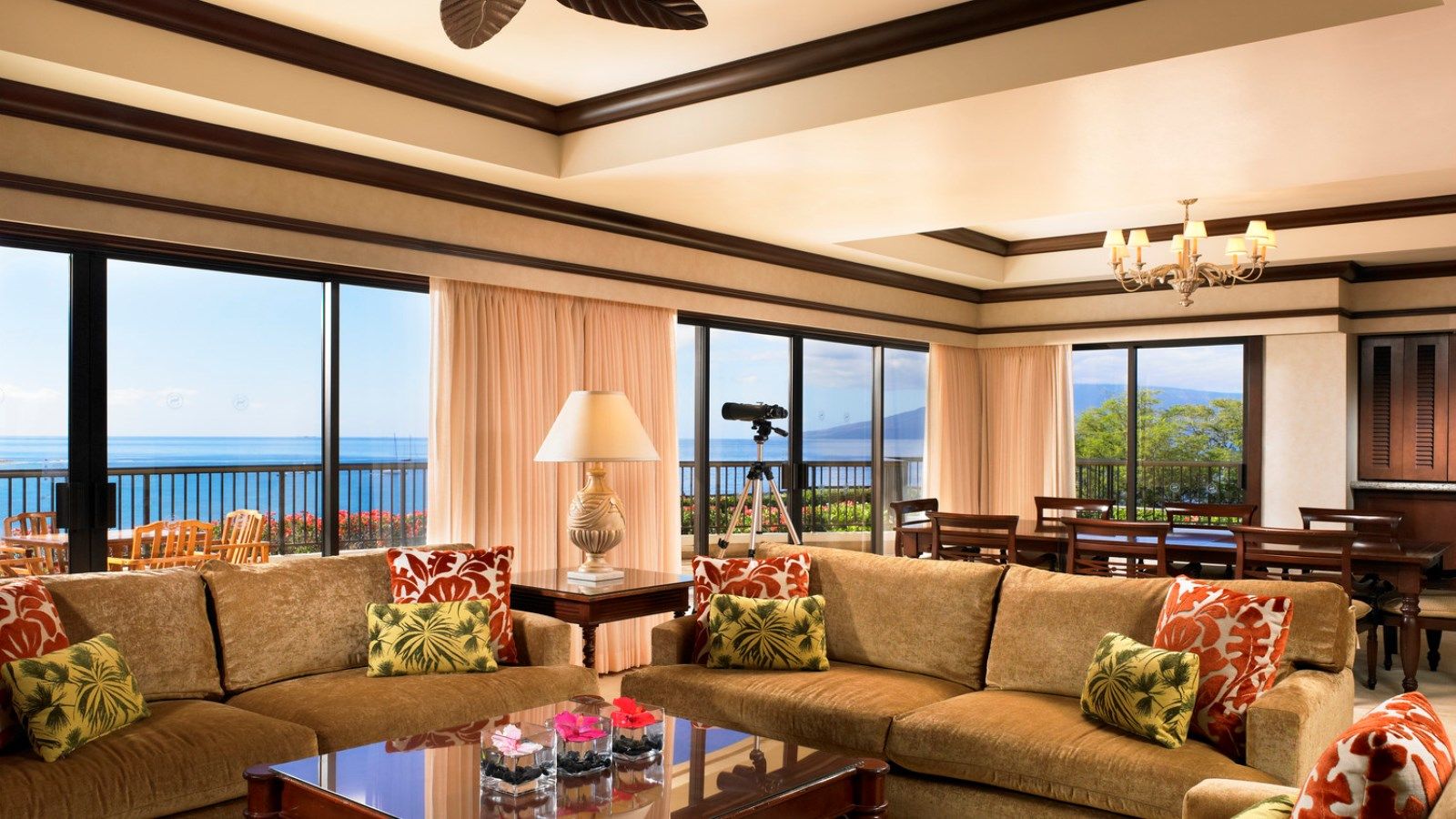 Ka'anapali Point
Ka`anapali Point is the newest wedding location at Sheraton Maui Resort & Spa. This secluded lawn is located directly above Black Rock, where couples can exchange their vows with the beautiful sound of the waves washing over the reefs in the background.
Ka`anapali Point is perfect for smaller wedding parties and can accommodate up to 40 guests.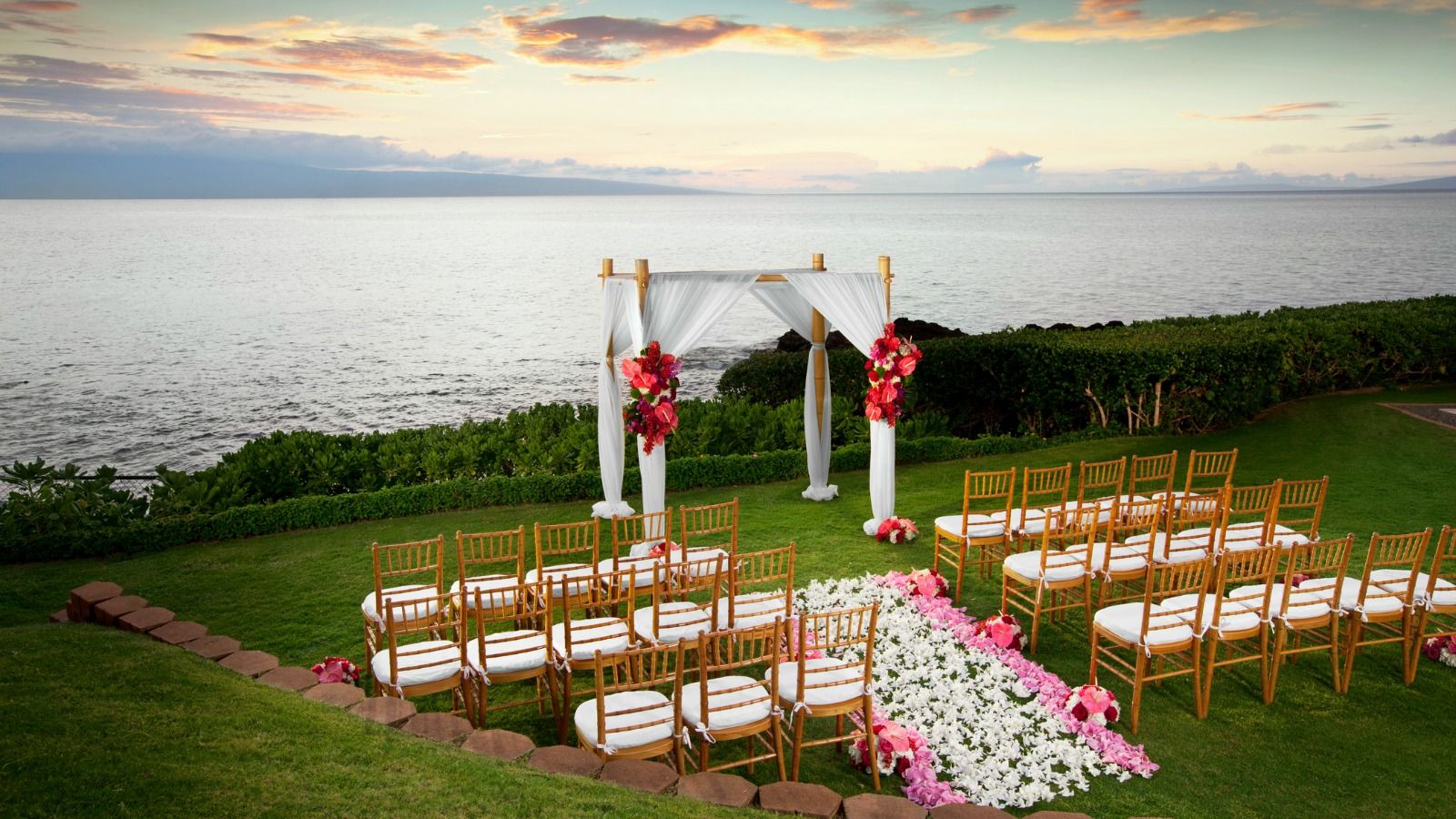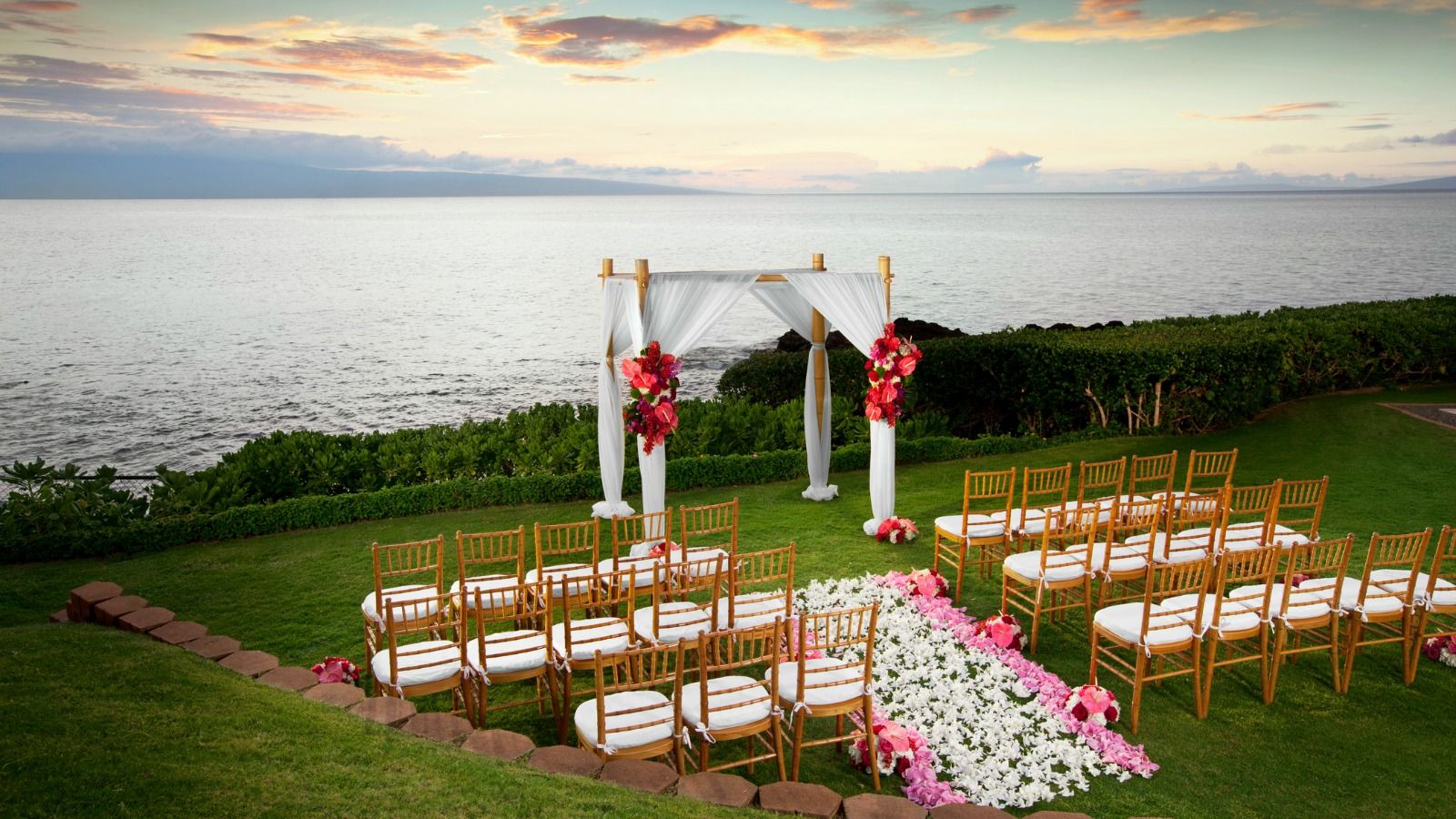 Anuenue Lawn
Centrally located, the Anuenue Lawn is a creative, flexible location for wedding ceremonies and receptions of any size. Surround your guests with the beauty of lush gardens and a winding lagoon pool. Then create memories to last a lifetime as you dine and dance the night away.

The Anuenue Lawn can accommodate up to 300 guests.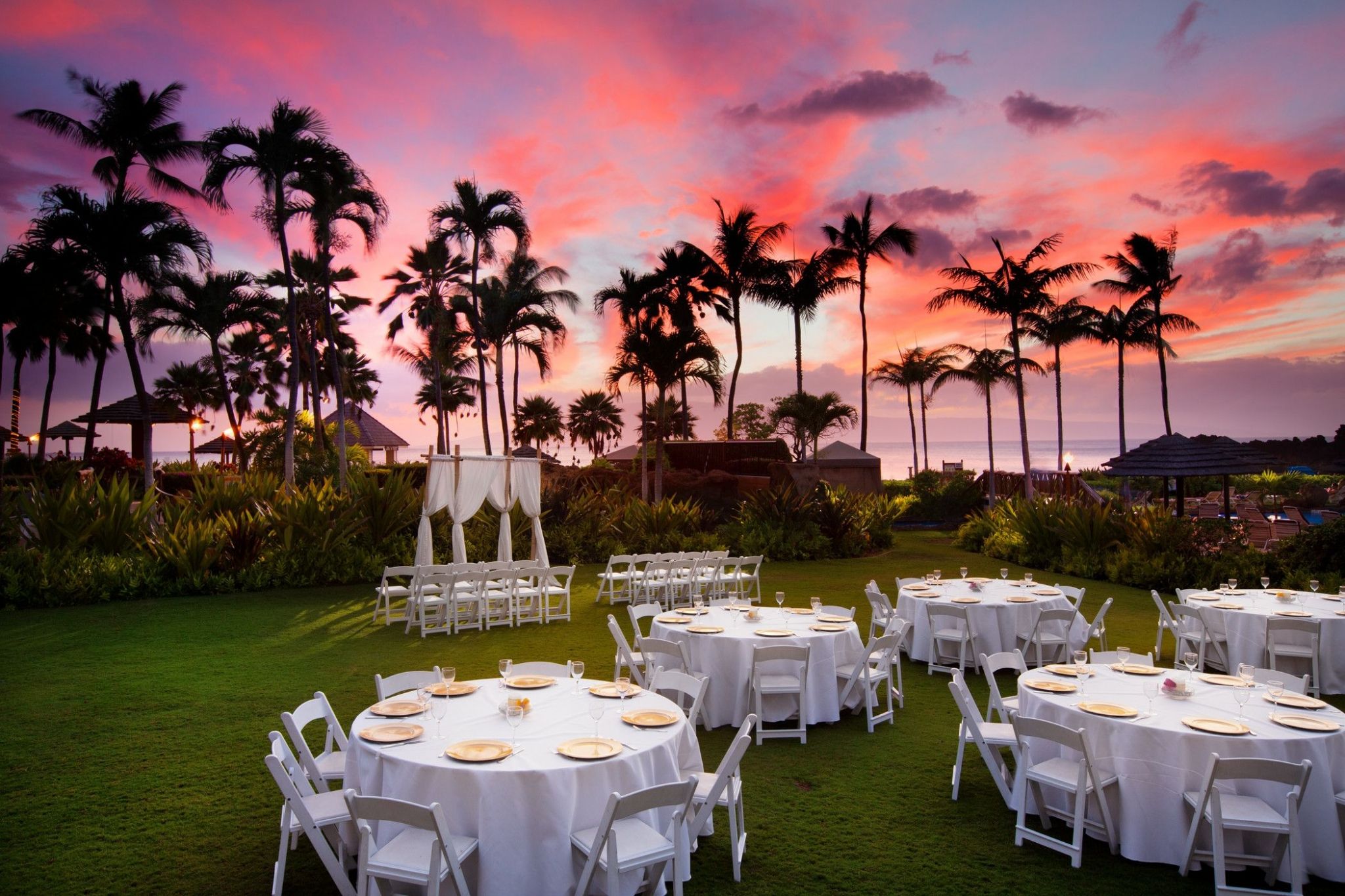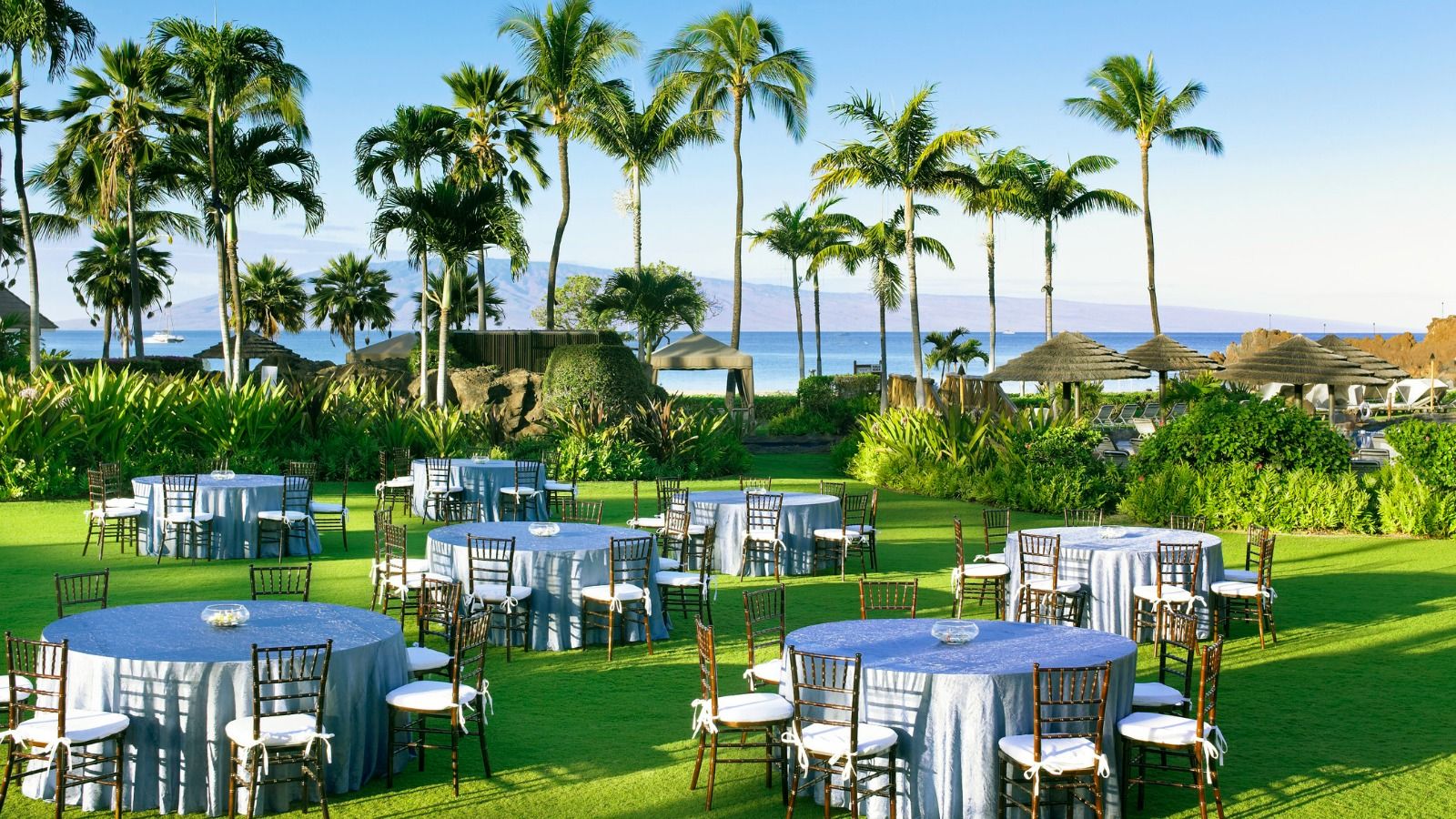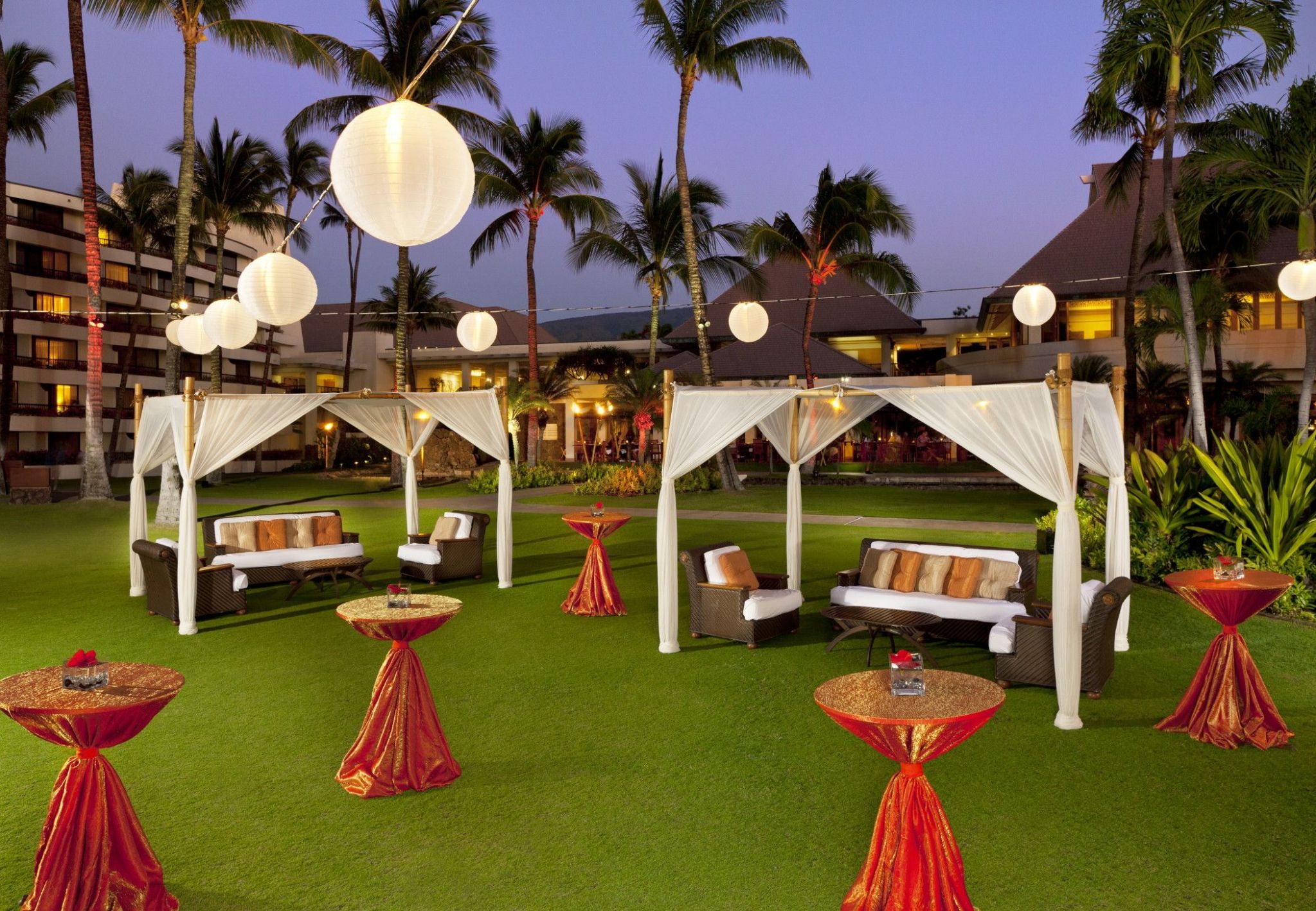 Maui Ballroom
There are no limits as to what you can do in the Maui Ballroom, a large scale space that is 6,560 square feet. The vast courtyard fronting Maui Ballroom is great for a cocktail and appetizer reception.

The Maui Ballroom can accommodate up to 600 guests for a reception or 500 for a banquet.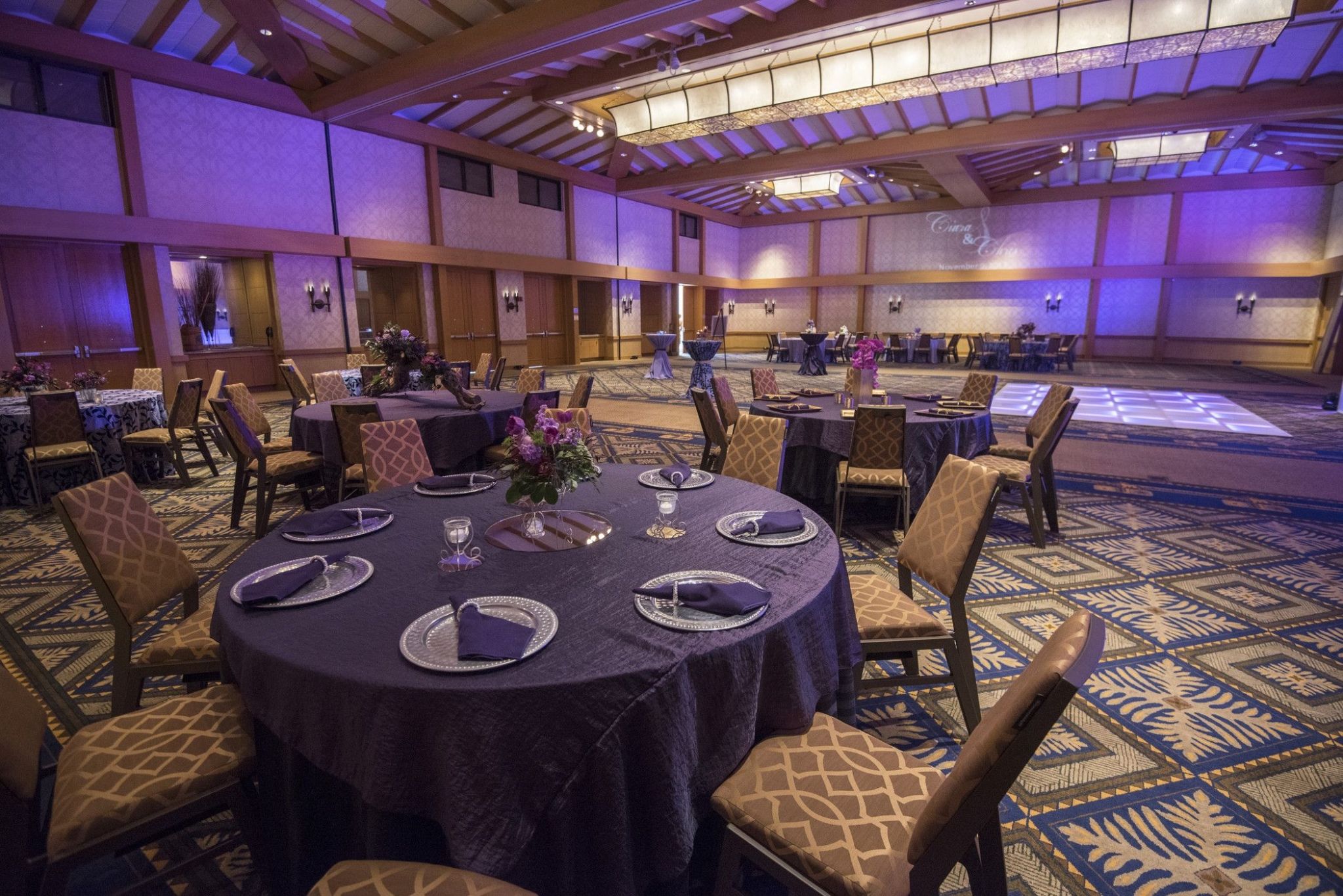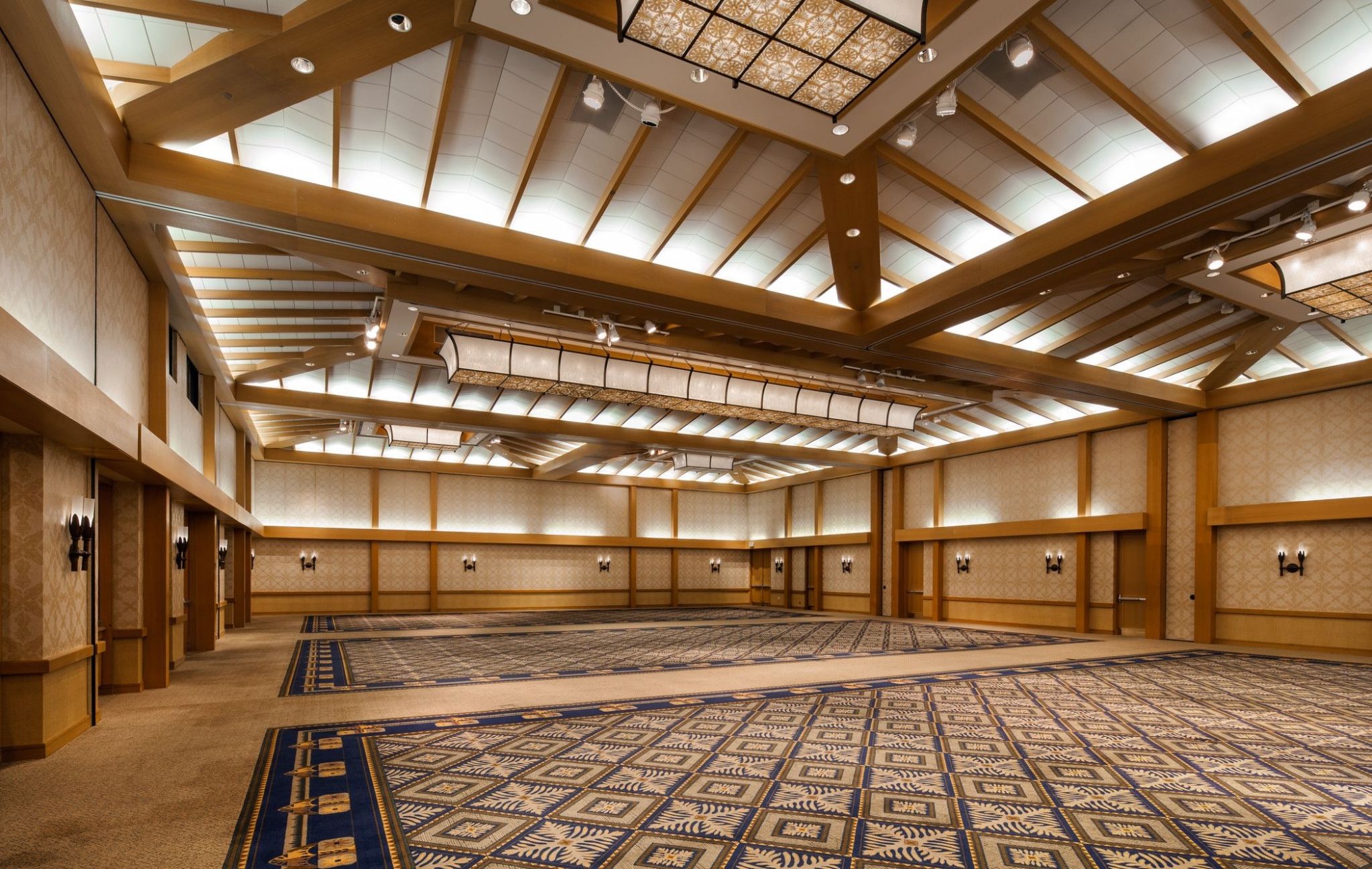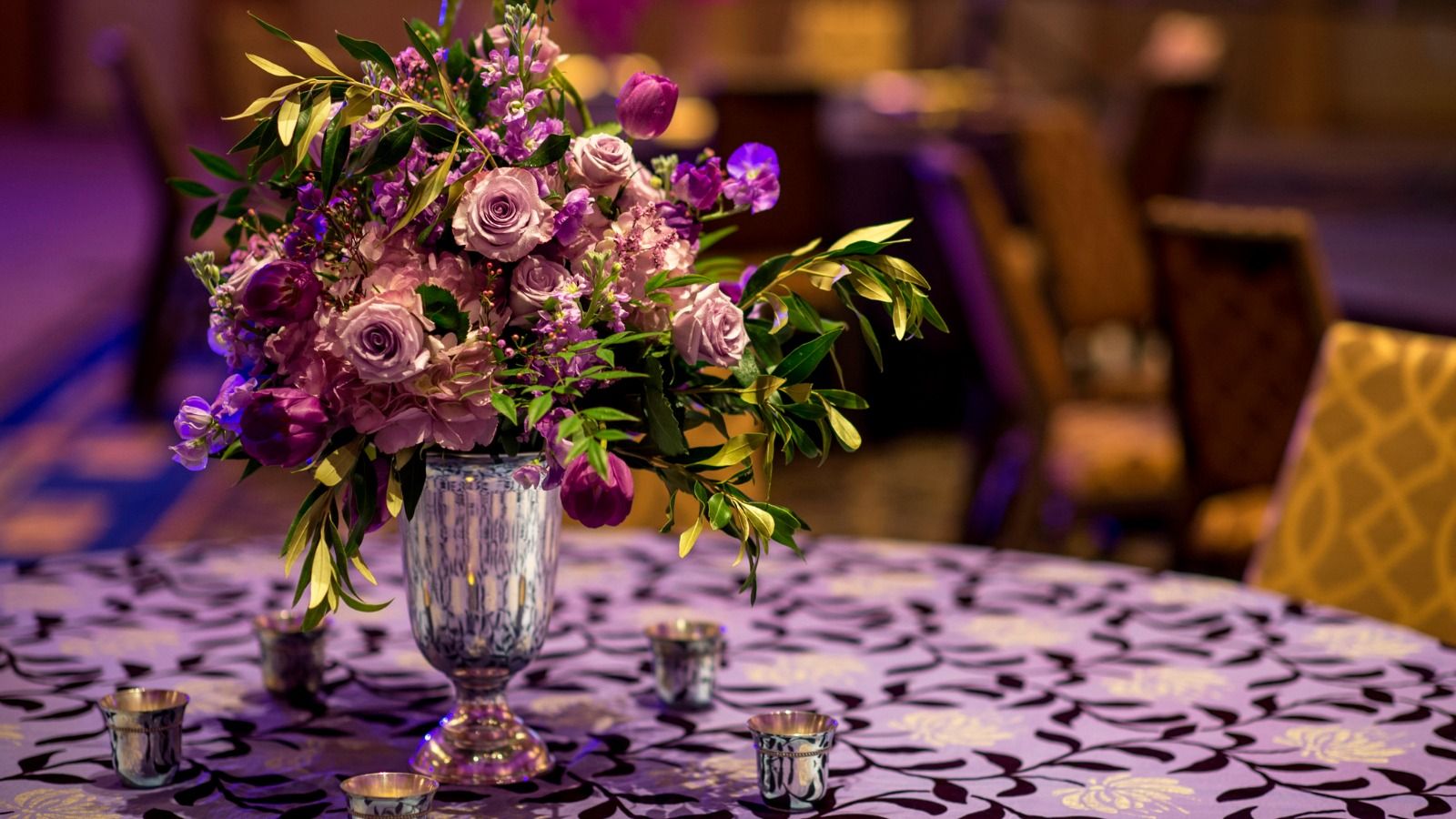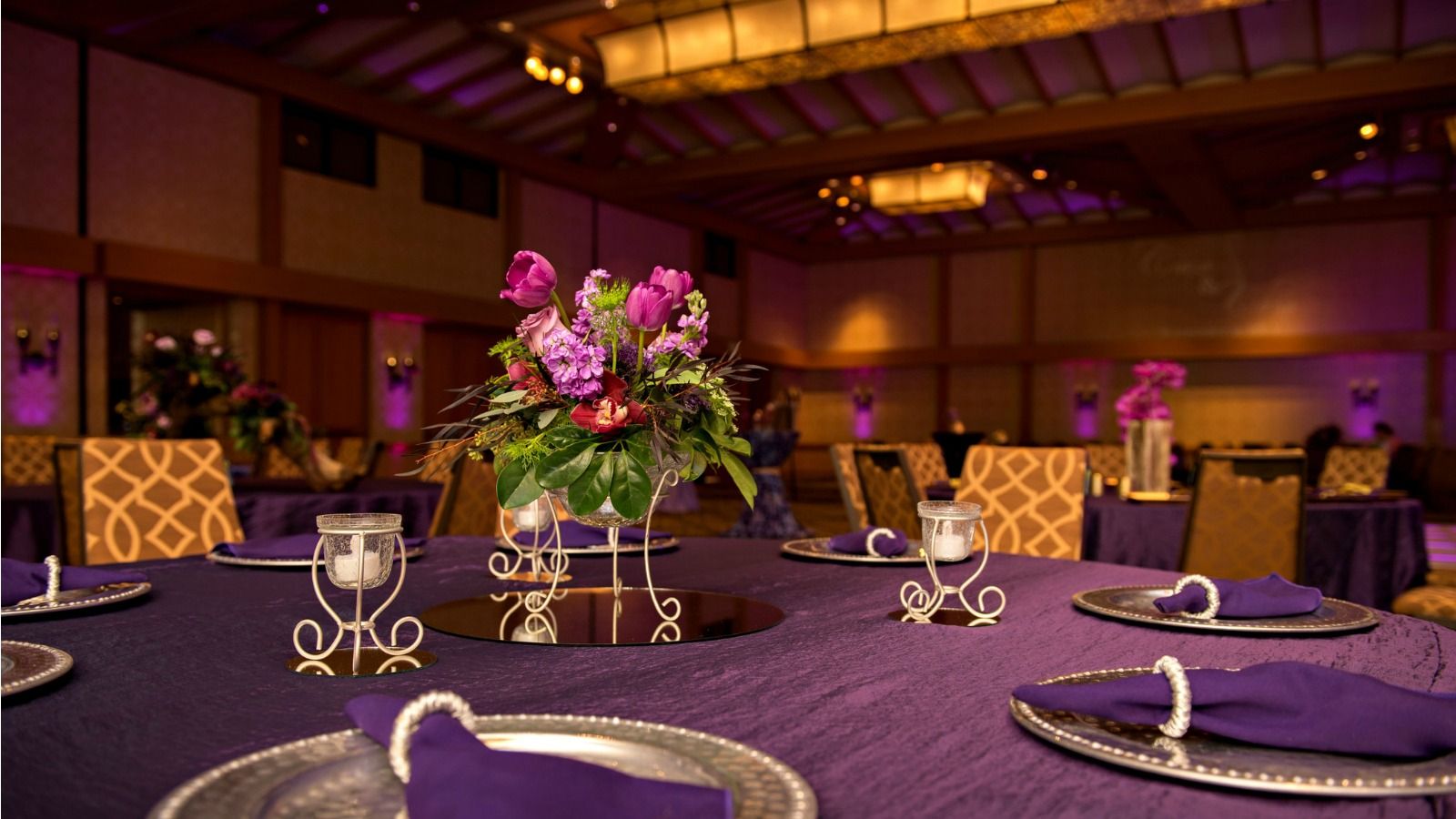 Kama'aina Weddings
Sheraton Maui Resort & Spa's array of spaces and customizable menu and event inclusions give Hawaii couples the opportunity to create the wedding of their dreams at a reasonable price point.
Kama'aina wedding ceremony packages include a personal wedding coordinator, orchid leis for the couple, four post bamboo arch, non-denominational wedding officiant, white wedding chairs, water station, marriage license coordination and wedding rehearsal coordination.
Kama'aina wedding reception packages include a personal wedding coordinator, white votives for the tables, white or black linens, dinner tables, high and low cocktail tables, wedding cake & guestbook tables and bar setup.
In addition to discounted menu pricing and package rates, Sheraton Maui Resort & Spa is offering discounted group room rates for local couples that host their wedding at the resort.

For more information, contact our Catering Sales Manager at (808) 662-8159.
Indian Weddings
East meets West at Sheraton Maui Resort & Spa. Maui is a destination with abundant natural beauty, turquoise waters and serene white sandy beaches adding that beautiful romantic ambiance to the wedding. We can accommodate engagement ceremonies, Sangeet parties, Mehendi celebrations, traditional Indian Wedding Baraats, marriage ceremonies, and anything else you desire. A truly tailored wedding event will be a perfect expression of the union of the two families, and will take every guest's breath away.
At Sheraton Maui Resort & Spa, we provide you multiple options for menus - whether you prefer a Traditional Indian menu, American or a combination of both.

Contact our Wedding Specialist who would love to help you customize your wedding experience so that it is uniquely yours.
Same Sex Weddings
Love is Love at Sheraton Maui Resort & Spa. We believe that every guest, whoever they are, wherever they go, should feel comfortable and welcome.
Sheraton Maui Resort & Spa is proud to host wedding ceremonies, receptions, rehearsal dinners, post-wedding brunches and more. Focus on starting your life together, while our wedding experts plan the celebration you've always imagined.
Exclusive Weddings Offers
Easy Breezy 'I Do' Package
The Easy Breezy 'I Do' package combines pre-selected enhancements and beautiful venue options to help couples experience a stress free planning process.
The Easy Breezy 'I Do' package allows for a maximum of 20 guests and includes:
Ceremony at our oceanfront Black Rock Lawn
Reception at Maui Nui Luau or Black Rock Kitchen's family-style dining location or the 'Ohana Table, (Subject to availability & total guest count)
A bamboo arch
Wedding officiant with conch shell blowing
Shell leis for all guests
Groom's boutonniere & bridal bouquet
Solo musician for the ceremony
One hour of wedding photography
Marriage license coordination
Water station for the ceremony
Personal event manager
The package is priced at $5,500, plus $89 per person for the reception at Maui Nui Luau or 'Ohana Table.
Honeymoon Registry
Experiencing a dream Hawaiian honeymoon is easier than ever with our Hawaii wedding registry service - "Honeymoon Wishes."

Family and friends can easily select and purchase from an array of items for the couple's Hawaii honeymoon.
We invite you to share your interests through Plan Your Stay and a member of our professional concierge team will contact you to confirm your requests for reservations. We look forward to connecting with you soon.
Honeymoon Package
Imagine this…walking along Ka'anapali Beach going barefoot with sand tickling your toes, and feeling the ocean water cool your body and relax your soul. You and your special someone could have this and more.
Maui is a great place to celebrate your honeymoon or anniversary! Our Suite Life package includes:
Fantastic Rates in a Junior Suite
Daily Breakfast for Two
$200 Resort Credit
Book Now or call 1-866-716-8140 and mention rate plan LCPKG1.